Marc Webb, Alfonso Cuaron And Edgar Wright Talk At Comic Con: The Live Blog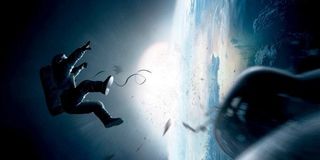 Set up in Hall H this afternoon at Comic-Con is Entertainment Weekly's Visionaries panel, which celebrates some of Hollywood's current "uncompromising directors" who have been electrifying audiences with their work, and who have some highly anticipated projects coming up. For Marc Webb, it's The Amazing Spider-Man 2. For Alfonso Cuaron, it's sending Sandra Bullock into space for Gravity. And Edgar Wright, it's a pub-crawl between five childhood friends who end up facing apocalyptic circumstances. We'll be live-blogging the panel for those of you who can't be here.
Here's the official panel description:
2:39 p.m. - Moderator introduces Alfonos Cuaron, Marc Webb and Edgar Wright to the panel. Lots of cheers for all three directors, especially when the moderator mentions their movies. Edgar jokes that he's only on the panel because he has the same initials as Entertainment Weekly.
2:41 - Moderator asks about bringing things to the screen. Edgar Write talking about World's End wrapping up a "thematic trilogy" (Shawn of the Dead, Hot Fuzz and now The World's End). For Marc Webb, it's taking simple, personal relationships and putting them into a massive story. He says the things he enjoy most are the relationship stuff, which ground these movies. If you don't have that, you can lose something. Cuaron talks about one single human floating in space completely alone and turning that character into a suspenseful action film with minimal elements. He wanted to put the audience in space with their characters.
2:45 - Cuaron talking about what it took to shoot the movie. When he grounded the script it became clear that the technology doesn't exist. Floating in zero gravity the whole time is the example he uses. He talked about trying the "vomit comet" - a plane that goes up and plummets, so the person inside is free falling and floating. Cuaron says it's fun, but you're limited to the space inside the plane and it lasts for 20 seconds, so it was impossible to use it. So they had to invent some other stuff. Asked to explain the "stuff" he says it's boring as hell. the core of it is robotics. For a big chunk of the film, Bullock was inside a 9x9 cube in which all the walls are LED lights. She was in the center that gyrated a little bit. Around her was her environment. He's using a water bottle to explain that everything was moving around her. He says when Sandra wasn't in the cube, she was working out because that's the only way to endure the whole thing.
Cuaron says it was easier when Bullock and Clooney were separated because when they were together they turned against him. He said they had a competition of impersonating his accent. He said they both sucked but they're funny. "They play me as a Cuban," he said. "Not as a Mexican."
2:49 - Moderator turns to Marc. Webb says the first movie they built massive rigs 300 feet long to fly Spider-Man or a stunt double under an overpass in NY. They used the stuff they made in the computer as a reference. The human body can only take so much. The reality of the physics is mind-boggling and sort of impossible to ask an actor to do. Now he's talking about villains and choosing Electro. He always though Electro was the most fun challenge of the movie because there's something so magnificent to a creature that can merge and blend. He was always fascinated and terrified by something that could disappear. Peter Parker's so grounded. He has normal problems to deal with and then he has to fight gods. Webb found it interesting to combine those two worlds. He's talking about The Fog of War documentary and having to empathize with the enemy. In order to take on Electro, Parker has to empathize with him.
2:54 - Wright's turn to talk about action. He tried to do the action sequences without cutting, so you believe the actors are doing it because they are doing it. They had to evaluate the cast members. All six of them trained with a stunt team. The fights were designed to be done all in one sequence. He says the actors were really up for it. He says you have to make it a point of pride. "They really rose to the challenge," he says. There was a scene in Hot Fuzz where they had a fight with teenagers, but it didn't work because they had to use adult stunt performers. In WE, there's a fight with 40-year-olds vs. teenagers, in which there were teen stunt performers. One of them was Chloe Moretz's stunt person for Kick-Ass when he was 12. Wright says he's going to be huge. Marc Webb says one of the best stunts they did wasn't even an action scene. It was Andrew Garfield with a coffee cup. He references Charlie Chaplin and Buster Keaton, talking about the timing and choreography. "You sense it in the room," Webb says. "When you can sit and watch and absorb characters doing extraordinary things."
3:03 - Cuaron agree with Webb that the physical comedy is almost a lost art now. Wright talking about the thrill of doing a scene in one take and looking over it afterward to see if they got everything. He says audiences are very aware of how films are made and how quick-cutting is used. "I think when it's clearly done in one take, people really respond to it." He praises Buster Keaton's poker face during his stunts. Cuaron speaks about the viewers' awareness of real time and how that's affect with a lot of cutting.
3:06 p.m. Edgar Wright talking about a fight in the bathroom. It's not just about arranging the scene, but also putting the camera in the right place. Marc says Nick Frost's stunts were "so fucking fantastic." Wright jokingly reprimands him for swearing and then says again that they all did their own stunts. "It was really fun to design these fights with lots of limbs and heads coming off," Wright says, adding "Rated R." Wright talks about Shawn of the Dead and the scene early on when Shawn goes to the store and we can see the zombies in the background but he doesn't notice them. He says they didn't have the street blocked off. And there was a drunk guy who walked through the set and said "Fuck you!" because he didn't care that they were shooting the movie. And then Wright apologized for swearing.
3:10 - Cuaron says the adrenaline is addictive. He talks about keeping on doing it, even when everyone tells you not to. For Children of Men, they were still prepping the movie ten days in. The pressure was on, especially when the head of the studio came to talk to him about the hold-up. He talks about shooting one scene where blood splashed onto the lens. Cuaron called "cut" because there was an explosion so they didn't hear him and they kept shooting, so it turned out to be a happy accident (or a miracle).
3:14 p.m. - Marc Webb says he enjoys being surprised by what the actors bring to something. It keeps him on his toes. He thinks the audience can detect when something is performative. He says those happy accidents happen all the time. Wright considering the "happy accidents" scenario. He's talking about really cold weather conditions and how that can add to the performances, when the characters are getting more drunk and desperate. He talks about Simon breaking his hand during shooting. He said he was ok and did five more takes, then revealed to Wright the next day that the doctor says his hand is broken. Wright attributes Simon's determination to plow through five more takes, suffering in silence, to the fact that he's a producer and knew effect the hold-up would've had on shooting.
3:18 - Time for fan questions! First question is about showcasing ones skills. "What did you create and how did you manage to showcase more than one skill?" Wright says if you want to get into writing and directing, the good thing is to try to do every job so you can see what it's like from those perspectives. Wright says if you want to be a director, it's a good idea to step into everybody else's shoes, even in front of the camera, just to see how it feels. He also says you might find other fields that you might want to do.
3:21 - Next question is what inspiration the directors drew from for their current films. Cuaron mentions Spielberg's first film. Webb jokes, Operation Dumbo Drop. Wright says there were a lot of British sci-fi films when he was growing up. They're talking about their mentors. Webb was taught to edit by a man named Doug Pray (sp?), which led to him doing music videos after that. Cuaron says the idea of having mentors is something that keeps the ball rolling from generation to generation. He did 15 movies as a boom operator. he worked his way up from there. He worked as an assistant director to a director whom he considers a mentor. He said the name, but I didn't catch it. He also says he learned from Sydney Pollack to hand things down to the next generation. Wright says Sam Raimi's story really inspired him. He was 18 when he did Evil Dead and that really inspired Wright to make movies.
3:28 - Someone asked the directors about Spielberg's comments about the state of movies today. Moderator references something Spielberg said about tiered pricing and the effect that might have on films. Cuaron says he thinks a big change is coming. Talks about how you could find small movies in theaters years ago. Today it's all big movies in the multiplexes. Multiplexes are the monopoly of big films, but there are other means of distributing films now, which is exciting. The multiplexes might end up being more about big movies. Webb brings up TV, saying a lot of wonderful writers have migrated to TV. TV shows are novelistic. "The kinds of storytelling you can engage in there is pretty awesome," Webb says. Cuaron says he doesn't think of it as drama vs. fantasy or drama vs. action. He says we're living in an age where franchises and sequels are required. Wright says there's a place for everything. There's an appetite for original films. He says the multiplex needs to get more diverse. There has to be a chance for an indie film to break out. "If we don't start doing more original films, there will be nothing to remake in 30 years time," Wright says.
3:34 - Cuaron says he agrees it's not always necessary for a film to be 3D and in a lot of cases, it's an afterthought from a money-making perspective. He says they worked meticulously to make Gravity great in 3D. He says 3D takes away color and resolution. With all of those misgivings, he still preferred 3D in the case of Gravity. He says 3D is a fantastic tool, but it doesn't need to be universalized. It needs to have a reason. Webb says he shot The Amazing Spider-Man in 3D and stereo. They conceived of the movie in specific circumstances and scenes with 3D in mind. He goes on to talk about the challenges of filming in 3D. He does think it can be exquisite at its best. But it can also be really terrible. Wright says he thinks most people are lukewarm on the format because they've seen too many bad ones where it's been done after the fact. Wright references Life of Pi, Hugo and Avatar as great examples of 3D done right.
3:38 - Last question. What's next? Wright jokes he'll do Ant Man in 3D. He says it's taking so long because he wants 2015 effects. Marc Webb says he wants to finish The Amazing Spider-Man 2. There's other projects he wants to do down the road. He mentions wanting to do musicals and doing something physical-comedy related. He seems to be intentionally vague there but it sounds like he has something in mind. Wright says he'd like to work with Pegg and Frost again but the just finished this film so it sounds like it's too soon for him to think ahead. Cuaron says Gravity took longer than he thought. Cuaron says he wants to do a horror movie.
Assistant Managing Editor
Kelly joined CinemaBlend as a freelance TV news writer in 2006 and went on to serve as the site's TV Editor before moving over to other roles on the site. At present, she's an Assistant Managing Editor who spends much of her time brainstorming and editing feature content on the site.
Your Daily Blend of Entertainment News
Thank you for signing up to CinemaBlend. You will receive a verification email shortly.
There was a problem. Please refresh the page and try again.