Mark Wahlberg Makes Will Ferrel's Life Hell In First Daddy's Home Footage At CinemaCon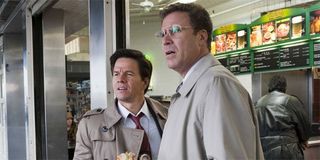 Back in 2010, Will Ferrell and Mark Wahlberg joined forces along with director Adam McKay and delivered The Other Guys - a rather fantastic cop comedy that wound up proving that Ferrell and Wahlberg actually work quite well together as a duo. Fortunately, it won't be too long until we see them paired up once again in the new comedy Daddy's Home - and today we got a very early look at some of the film's first footage.
Paramount Pictures held their presentation for theater owners at the annual CinemaCon expo in Las Vegas this morning, and in addition to bringing some great stuff from Mission: Impossible – Rogue Nation, the studio also showed a three-to-four minute sizzle reel from Daddy's Home both setting up the movie's plot and highlight some of what we can assume are the movie's best moments. From the clips shown, it looks like Ferrell and Whalberg will once again be playing up the passive vs. aggressive angle that worked so well in The Other Guys, and it looks like it will be good for a few laughs.
Beginning with some voice over narration from Will Ferrell's character, he explains that there's nothing that he really loves more than being a dad - be it coaching basketball, scouting or anything else – despite the fact that his kids don't really like him all that much (as literally illustrated by the fact that his daughter draws family portraits with him far, far away from everyone else and with poop for hair). This is because he is actually a step-dad, having married a woman (Linda Cardellini) who has a young son and daughter. It's established that Ferrell's character is a rather up-beat guy who doesn't let things get him upset – but that all comes crumbling down when his wife's ex, Dusty (Wahlberg), calls and reveals that he is coming into town. Of course, it doesn't help that Cardellini's character never told her ex that she got remairried.
From that point on in the footage, the whole thing very much becomes about mind games. First, Ferrell's character goes to pick Dusty up at the airport, but gets stranded when Dusty says that he's not the guy that Ferrell is looking for (basically so that he can beat Ferrell back home and spend time with the kids alone). The two men also battle when it comes to tucking the children into bed at night, first with Dusty telling them a bedtime story about an "evil step-king," and then with the two men going back in forth to be the one who says goodnight to them last. It's revealed in montage that Dusty's cool-guy personality has everyone charmed and actively rooting against Ferrell's character, including even Ferrell's boss (Thomas Hayden Church).
The final sequence in the footage featured the entire family, including Dusty, going to see an NBA game, and Dusty getting invited, along with the kids and his former wife, to sit courtside next to the bench. Left alone, Ferrell's character decides it's a good plan to get horrifically drunk – but this plan seriously backfires when he is selected to try and make a half-court shot at halftime, and winds up smashing a cheerleader in the face with the ball.
All in all, I can't say that the Daddy's Home footage had me howling with laughter, but it did have some funny moments – such as a moment where Ferrell's character eventually becomes so sick of Wahlberg's that he tries punching him in the face and has absolutely zero effect. Given that the film hasn't been given a release date yet, we're not quite sure when you'll be able to see some of this footage for yourself, but stay tuned!
Assistant Managing Editor
NJ native who calls LA home and lives in a Dreamatorium. A decade-plus CinemaBlend veteran who is endlessly enthusiastic about the career he's dreamt of since seventh grade.
Your Daily Blend of Entertainment News
Thank you for signing up to CinemaBlend. You will receive a verification email shortly.
There was a problem. Please refresh the page and try again.