Mark Wahlberg Wants To Make A Sequel To The Fighter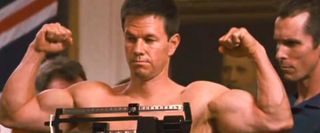 Mark Wahlberg was the only major actor in The FIghter not to score an acting Oscar nomination, but he may in fact be the one most committed to the ongoing saga of Micky Ward. On the red carpet before Sunday's Oscar ceremony, he dropped to Extra's Mario Lopez that he wanted to make a second film about the boxer's life. The video is below, but I've taken out the quote since I can barely hear anything he's saying:
The Gatti fights, which all happened after what we see in The Fighter, were a series of three bouts between Micky Ward and Arturo Gatti, beginning in 2002. Ward earned $3 million during the fights, and two were named "Fight of the Year" by Ring magazine. Clearly a movie about the three bouts would be of interest to boxing fans, but without the emotional thread of brother Dicky Eklund's recovery from crack, would the movie be nearly as good?
It's also unclear who Wahlberg means by "we"-- he's been involved in the project longer than director David O. Russell, and it's easy to imagine him going forward without the director, though given how close the two of them are Wahlberg might be able to talk him into it. Would you guys watch another movie about Micky Ward, or have you had your fill of boxing movies unless there's a story like Dicky's to balance it out?
Your Daily Blend of Entertainment News
Staff Writer at CinemaBlend