Marvel May Have Added Another Filmmaker To Its Black Panther Shortlist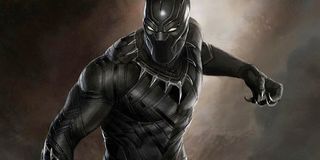 Black Panther won't be hitting theaters until 2018, but Marvel is already looking for the right creative mind to direct the superhero film. Yesterday, Selma director Ava DuVernay was linked by Marvel Studios to helm one of their movies, Black Panther or Captain Marvel being the likeliest choices. While the latter could still be an option, if it's the former, DuVernay may now be facing some competition for Black Panther from filmmaker Rick Famuyiwa for the job.
Superhero news scooper Umberto Gonzalez posted this tease on Twitter Wednesday about how another "dope" director may be meeting with the folks from Marvel soon.
The use of "Dope" likely refers to Famuyiwa's upcoming comedy-drama film Dope, which he wrote and directed. The film was screened at Sundance back in January and will be released in theaters this June. As far as Black Panther is concerned, however, Famuyiwa's potential involvement should not be considered a done deal. If he is truly being looked at, his chances of being brought on to the solo film are just as good as DuVernay's are. Famuyiwa's body of work includes 1999's The Wood, 2002's Brown Sugar and 2010's Our Family Wedding. It's unknown whether he has any other projects lined up for the near future, but Black Panther is far enough away that he could work on another film and still direct King T'Challa's solo adventure afterwards.
Not much is known about what's in store for Black Panther at this point. The character, played by 42's Chadwick Boseman, will debut in next year's Captain America: Civil War, which will see the passing of the Superhuman Registration Act after an international incident involving the Avengers. Unlike the rest of the heroes in the movie, T'Challa will reportedly not favor either the pro-registration side or anti-registration side, but rather have his own agenda.
Black Panther was originally scheduled to be released on November 3, 2017, but after the new Spider-Man solo film was placed on the schedule, the solo Panther movie was moved to July 6, 2018, placing it several months after Avengers: Infinity War Part I is released.
No supporting characters for the film have been announced, but it was rumored last week that Martin Freeman's character in Captain America: Civil War (said to be government agent Everett K. Ross) will return for Black Panther. If correct, this would mean the film has at least two lead cast members. As for the Black Panther villain, no one has been named yet, although one of T'Challa's main nemeses from the comics, Ulysses Klaw (spelled "Klaue" in the MCU), had a minor role in Avengers: Age of Ultron.
Do you think that Famuyiwa would be a good choice to direct Black Panther? Let us know in the comments below.
Connoisseur of Marvel, DC, Star Wars, John Wick, MonsterVerse and Doctor Who lore. He's aware he looks like Harry Potter and Clark Kent.
Your Daily Blend of Entertainment News
Thank you for signing up to CinemaBlend. You will receive a verification email shortly.
There was a problem. Please refresh the page and try again.