Is The Master Control Program Tron 3's Villain?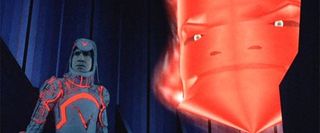 Disney's planning a follow-up to Tron: Legacy, what form that sequel will take remains to be seen, but the studio will start teasing it on the soon to be released Tron: Legacy Blu-ray. A few weeks ago we showed you this video from the Blu-ray set, in which we learned what happens immediately after Tron: Legacy ended. Now another video from the Blu-ray has leaked, and this one may offer clues to the nature of Tron 3's villain.
The video embedded below shows a chat conversation between Edward Dillinger Jr. (played by Cillian Murphy in Tron: Legacy) and his father. Edward is the son of Ed Dillinger, the man behind the evil Master Control Program in the first film. Watch:
Edward seems to think he's talking to his father, but note that his father's internet handle is MCTRL. Then there's the voice to consider. That voice you hear is the voice of the Master Control Program, not Ed Dillinger. Even the speech patterns are classic MCP. Dillinger doesn't say "End of Line". That's the Master Control Program's bit. Maybe Edward Jr. thinks he's talking to his Dad, but it seems a lot like he may actually be talking to the MCP. Whoever it is that Jr.'s actually working with, together they're out take down newly risen Encom CEO Sam Flynn, and likely to be the villain of Tron 3.
Your Daily Blend of Entertainment News
Thank you for signing up to CinemaBlend. You will receive a verification email shortly.
There was a problem. Please refresh the page and try again.