Masters Of The Universe Reboot To Get A Rewrite From The Director Of Kick-Ass 2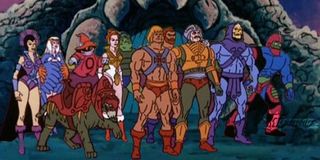 Back in the 1980s, Mattel's Masters of the Universe inspired countless hours of playtime for children. And Columbia Pictures has been working hard to spin this dusty franchise into a fresh feature to appeal to a new generation of fans. Their latest efforts to resurrect Masters of the Universe involves wrangling the writer-director of Kick-Ass 2.
THR says that the studio has officially hired Jeff Wadlow to rewrite the screenplay for Masters of the Universe, a reboot inspired by the popular line of action figures that featured the likes of He-Man, Skeletor and She-ra, who were also featured in children's cartoon shows.
Aside from Kick-Ass 2, Wadlow is known for co-writing and directing the devilishly entertaining horror-thriller Cry_Wolf. This might suggest that Columbia is angling for a more mature take on Masters of the Universe. That said, I doubt it would be anything beyond PG-13, because otherwise they'd be missing out on that sweet and impressionable toy-demanding young kids demographic
At this time, Wadlow has not been offered the director's chair on Masters of the Universe, but it's suspected revising its screenplay could put him on the producers short list of could-be helmers. (Notably, one of those producers is Jason Blum, who recently announced truly, truly, truly outrageous plans to make a live-action movie out of another popular '80s toy/cartoon, Jem and the Holograms.)
Memorably, He-Man and his friends first hit theaters in the 1987 Dolph Lundgren version of Masters of the Universe, which came together with some fairly disastrous results.
Since then, several attempts have been made to get this franchise going again. Wadlow's hiring is just the latest chapter in Masters of the Universe's journey back to the big screen.
We first got word of a potential new He-Man movie all the way back in 2004, when John Woo was attached. By 2007, Warner Bros. was working on a He-Man movie with producer Joel Schumaker that Justin Marks, who later wrote Street Fighter: The Legend of Chun-Li, was lined up to pen. By the fall of 2009, Warner Bros had bailed on their version of He-Man, and Sony/Columbia picked up the rights. From there, the producers selected Alex Litvak and Mike Finch (Predators) to draft a Masters of the Universe script.
By 2012, Jon M. Chu, helmer of G.I. Joe: Retaliation and the upcoming Jem, was temporarily attached to direct Masters of the Universe. Shortly after, Expendables 2 scribe Richard Wenk was brought in to revise the script. Following him, The Lone Ranger co-writer Terry Rossio was given a crack at this screenplay, that had already been worked on by an alarming number of writers.
Now at long last Wadlow has joined the project. Will he be the screenwriter who can finally crack the code to get this pic greenlit? We'll have to wait and see.
Your Daily Blend of Entertainment News
Staff writer at CinemaBlend.