Matt Bomer And Lucy Griffiths Join Akiva Goldsman's Winter's Tale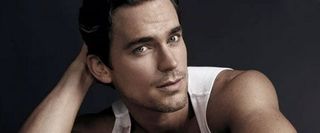 Dazzling audiences as the clean-cut looking, coke-addicted stripper of Magic Mike's insanely fit ensemble, Matt Bomer, the star of TV's White Collar, had an incredible summer. Despite having a relatively minor role in the breakout indie hit, Bomer drew plenty of notice among moviegoers, many of whom promptly took to the web to throw his name onto the growing wish list of handsome leading men who should be considered for the role of Christian Grey, the domineering dreamboat at the center of the hotly anticipated Fifty Shades of Grey adaptation. For now that part is fantasy, but Bomer has just secured a film role that should prove interesting.
Deadline reports that Bomer has joined the cast of Winter's Tale along with Lucy Griffiths - who recently played Alexander Skarsgård's twisted vampire sister on True Blood - and Golden Age actress Eva Marie Saint. The romance, which will mark Oscar-winning screenwriter Akiva Goldsman's directorial debut, is based on Mark Helprin's fantasy novel that splits it story of star-crossed lovers between 19th century and present-day Manhattan.
Colin Farrell stars as Peter Lake, an uneducated, middle-aged Irish burglar who meets the love of his life, sickly heiress Beverly Penn, while attempting to rob her palatial mansion in the Upper West Side. Jessica Brown Findlay of Downton Abbey will play his invalid lover, but in a curious move, Bomer and Griffiths have been cast to play Peter's parents. More curious still is that the producers refuse to reveal what role Saint will play so as to not reveal plot spoilers (but do feel free to speculate in the comments section).
Having not read the novel, there are elements of this narrative that perplex me at this point, like casting such young actors to play the parents of 36-year-old Farrell and the promised involvement of a magical white horse. Nonetheless, having penned a long list of adaptations—from The Client to A Beautiful Mind and I am Legend—Goldman has shown a talent for translating books into engaging features. And hard as he has had to fight to get this movie made I have to imagine he has a strong vision for for the project.
Winter's Tale will go into production in Manhattan on October 27th.
Staff writer at CinemaBlend.
Your Daily Blend of Entertainment News
Thank you for signing up to CinemaBlend. You will receive a verification email shortly.
There was a problem. Please refresh the page and try again.