Matthew McConaughey Will Not Play JFK In Lee Daniels' The Butler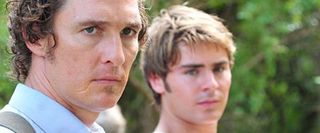 With his thick Texas accent and easy breezy persona, Matthew McConaughey is not the first actor most would consider when casting the role of John F. Kennedy. But Precious director Lee Daniels is not most people. It seems after working with McConaughey on his Cannes selected thriller The Paperboy, Daniels could think of no better performer to portray President Kennedy in his next effort, the ambitious ensemble drama The Butler, which follows one White House servant's life through the administration of eight presidents.
While on it surface it may seem a peculiar pick, it's sort of intoxicating to imagine McConaughey taking on JFK's iconic Boston accent and radiating sex appeal into his portrayal of one of our nation's handsomest commanders in chief. But alas, this curious bit of casting has not panned out, as McConaughey has revealed to 24 Frames, saying:
While The Paperboy garnered a Palme d'Or nomination at Cannes, it also earned much notoriety from the press for scenes in which Nicole Kidman urinates on Zac Efron's face, and experiences a loud, hands-free orgasm in a public place. Of course, Daniels is not exactly known for his subtlety, but was the film's mixed reception one of McConaghey's "certain true reasons" for walking away from The Butler? "No," he insists, "Not at all, I had a wonderful time working with Lee. Lee's become a good friend of mine."
Instead, it appears to be a scheduling conflict that's at fault, as McConaughey is hard at work finalizing the script for the long in-development drama Dallas Buyer's Club, with Jean-Marc Vallee, the writer-director of C.R.A.Z.Y.. Additionally, McConaughey is a producer on the project and will also star as Ron Woodroof, an electrical contractor who turned to smuggling prescription drugs in the beginnings of the AIDS epidemic. Dallas Buyer's Club film will lens this fall.
Staff writer at CinemaBlend.
Your Daily Blend of Entertainment News
Thank you for signing up to CinemaBlend. You will receive a verification email shortly.
There was a problem. Please refresh the page and try again.