Matthew McConaughey Sits On The Hood Of The First Lincoln Lawyer Poster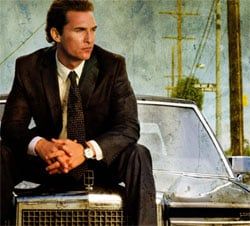 We've got the first poster for Matthew McConaughey's The Lincoln Lawyer, that movie in which he plays a legal eagle who rides around in a large, elderly sedan defending the innocent and those with the money to pay for his services. His name is Mickey Haller and he lands the case of his career when asked to defend a Beverly Hills playboy, played by Ryan Phillipe, accused of rape and murder. Along the way, things get dangerous for Haller.
The Lincoln Lawyer hits theaters March 18, 2011. Click the poster below to see it in high-resolution:
For more on The Lincoln Lawyer including trailers and detailed cast info visit its page in our Blend Film Database.
Your Daily Blend of Entertainment News