Meet Ava: 5 Things You Need To Know About Ex Machina's Star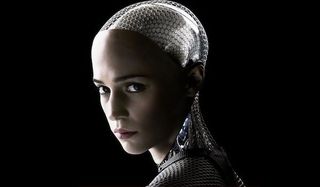 This weekend, audiences will finally be able to see what may wind up being the best film of 2015. Alex Garland's science-fiction thriller Ex Machina is arriving in theaters, and is fully ready to twist audiences' brains like a pretzel as it unfolds the story of two brilliant men (Domnhall Gleeson, Oscar Isaac) and their attempts to perform a Turing Test on the world's first artificial intelligence: a robot named Ava (Alicia Vikander). And while the movie is captivating and beautiful from beginning to end, perhaps the most fascinating thing in it is the titular machine. So let's get to know her a little bit better, shall we?
Check out our primer below, and get to know five cool facts about the amazing Ava before you check out Ex Machina on the big screen:
Alicia Vikander beat out Felicity Jones for the role
When we first learned back in April of 2013 that both Oscar Isaac and Domnhall Gleeson had signed on to star in Ex Machina, the project had not yet selected an actress to portray Ava in the sci-fi thriller. Alicia Vikander was one of the top talents in contention for the part, but the production was also looking at one other candidate: Felicity Jones. It wasn't until about a month later that director Alex Garland eventually made his choice and selected the Swedish star as his female lead. Having seen the film, it's tremendously hard to argue with the filmmaker's choice, as Vikander is perfect in the role of Ava – but Felicity Jones can't be too upset about missing out on the gig. After all, she did just pick up her first Academy Award nomination a few months ago for her great performance in The Theory of Everything.
You may have been fooled by her fake Tinder profile
When Ex Machina went to the SXSW Film Festival last month, its presence in Austin was a bit more significant than just a simple North American premiere. The folks behind the film also had a bit of fun messing with the people in the Texas capitol by setting up a special Tinder profile featuring none other than the artificially intelligent Ava. The profile alone is a nice bit of viral marketing for the movie, but what made it even better is that users could actually "talk" to Ava and perform their own little Turing Test to determine if the person on the other end of the line is actually real. Surely there are some people out there who got upset when they realized that they were talking to a bot instead of a living, beautiful woman, but one can still appreciate the creativity behind the campaign.
Her consciousness comes from users like you
Regular internet users like you and me are perhaps the world's greatest resources for data. After all, every search that we do, and every site that we visit is logged, and all of that information when combined could theoretically tell us everything about the modern world. Obviously this is a rather fascinating – if not a little terrifying concept – concept, and it's one put to elegant use by Alex Garland in Ex Machina. In the movie, Nathan is the owner of the search engine BlueBook (basically the fictional world's version of Google), and it's with data collected from user searches and browsing history that he is ultimately able to craft Ava's "mind" to be on the same level as humanity's. Not only is this an excellent, thoughtful, and captivating way to approach the subject of fictional artificial intelligence, but it honestly wouldn't be that hard to see reality accomplish the same thing through similar means.
Her name is a twisted, but also rather obvious biblical reference
Ava is an excellent name for a robot, as it's both pretty and very simple, but it's also fairly obvious to see that Alex Garland took a bit of biblical inspiration in coming up with her moniker. After all, all you have to do is switch out the "A's" in her name for "E's" and what you get it is Eve – a pretty damn appropriate name when you consider that she is introduced in the film as the world's first artificially intelligent lifeform. This definitely isn't a coincidence either, as Alex Garland has gone on record saying that calling her Eve would have been "too prosaic." It's also interesting to note that both Domnall Gleeson and Oscar Isaacs' characters have biblical inspired names as well, with the former playing Caleb (a spy sent by Moses into Canaan) and Nathan (a prophet in the court of King David).
She's worked with Domnhall Gleeson before
Okay, so this one isn't so much about Ava as it is about Alicia Vikander, but it's still interesting to know about the past connections between the Ex Machina stars, right? Back in 2011, both Vikander and Domnhall Gleeson both co-starred in Joe Wright's adaptation of Leo Tolstoy's Anna Karenina - but rather than playing disparate parts on opposite sides of the narrative, the two parts were actually wholly tied together. In the movie, he played Konstantin "Kostya" Dmitrievich Levin, a landowner looking for love, while she starred as Princess Ekaterina "Kitty" Alexandrovna Shcherbatskaya, the woman who winds up taking ownership of his heart. This past experience between Vikander and Gleeson actually goes a long way in explaining the amazing chemistry between the two actors in Ex Machina, and it would not be wholly surprising to learn that Wright's movie had an impact on Alex Garland's casting choices.
The above article was sponsored by A24 and Universal. Please check out Ex Machina.
Assistant Managing Editor
NJ native who calls LA home and lives in a Dreamatorium. A decade-plus CinemaBlend veteran who is endlessly enthusiastic about the career he's dreamt of since seventh grade.
Your Daily Blend of Entertainment News
Thank you for signing up to CinemaBlend. You will receive a verification email shortly.
There was a problem. Please refresh the page and try again.