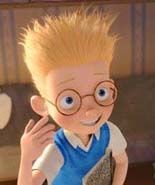 Disney's really going full steam ahead with their animation division now. 2006 will see two computer animated films from them. The first is something that sounds an awful lot like a rip-off of Madagascar called The Wild, the second is basically Jimmy Neutron: Boy Genius with a new label slapped on it. It's called Meet the Robinsons.
Judging from the stills from Meet the Robinsons that we've gotten from Buena Vista, it doesn't look like the animation is much better than Jimmy Neutron's either. Thank god Disney and Pixar are patching it up. If there was ever proof Mouse House needs Pixar, this is it.
So, head over to the CB Meet the Robinsons Photo Gallery to see all our stills from the upcoming animated film. You'll see what I mean.
Your Daily Blend of Entertainment News
Thank you for signing up to CinemaBlend. You will receive a verification email shortly.
There was a problem. Please refresh the page and try again.