Meet Feast's Winston, The Cutest, Hungriest Disney Puppy You Ever Saw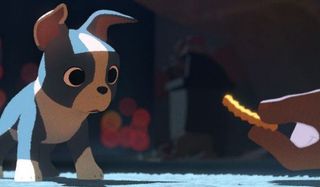 The first clip for Feast, Disney's upcoming short film, has been released and it suggests that the studio will be harking back to their golden age with the hugely anticipated piece. You can check out the footage below, and you can't help but feel warmed by its content.
What do you think? It's underwhelming but nice, I'd say. While you don't get a clear indication of the short's plot, you do get a real sense of its pace, lead character and style. All of which suggests that Feast is going to be a fast-paced, emotional rollercoaster. There are already signs that its hand-drawn animation has been inspired by the likes of Oliver & Company, with a modern-version of Lady & The Tramp thrown in for good measure too. None of which you can really argue with.
It has already garnered a nice bit of buzz after it premiered at the Annecy International Film Festival earlier this summer. With Feast it seems as though Walt Disney Animation Studios are now trying to compete with the esteemed shorts that Pixar have produced over recent years. Whether it will actually be as good as the likes of Boundin', Day & Night, For The Birds and Lifted remains to be seen, but there certainly seems to be enough scope to the piece that suggests it will at least compete.
Feast's plot almost makes it impossible not to be excited about. Disney's official synopsis reads, "Feast is the story of one man's love life as seen through the eyes of his best friend and dog, Winston, and revealed bite by bite through the meals they share." How can you not be enamored with such a description?
Back in August director Patrick Osborne, who also worked as one of the lead animators on Big Hero 6, told USA Today that Winston is a "star terrier that's full of energy," who "like any of us, is looking for food and some kind of emotional connection."
After being picked up as a stray by James, the film then goes on to span 12-years and is completely from Winston's point of view. We get to see how Winston's life is affected by the different meals that he is forced to consume as James begins a relationship. This sees him stop eating nachos and spaghetti and having to contend with hummus and sprouts instead. However, despite his change of diet, Winston soon decides to try and save the stuttering relationship in order to make James happy. I'm already close to tears. Feast will be shown in theatres ahead of Big Hero 6 when it hits cinemas on November 7. And if that isn't enough to get you excited for Feast then the fact that Osborne was the head of animation for Disney's Oscar-winning short film, Paperman really should. If you've not seen Paperman then you can check it out below. It's amazing.
Look for Feast ahead of Big Hero 6 next month.
Your Daily Blend of Entertainment News