Meet Narnia's Chief Dufflepud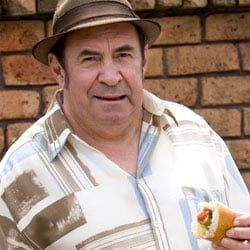 The Chronicles of Narnia: Voyage of the Dawn Treader has cast a Dufflepud, which is every bit as fun as it sounds. In C.S. Lewis's book on which the upcoming movie will be based, Dufflepuds are odd, one-legged dwarfs or gnomes encountered by Prince Caspian and his crew during their ocean voyage. According to Moviehole an actor named Roy Billing has been cast to be Chief Dufflepud, their unquestioned ruler.
That's his picture with this story and I have to say, he looks like a Dufflepud. I can't see his legs but I'm willing to assume that were I able to, I'd only see one. Do Dufflepud's wear hats? They should. Billing is a prolific New Zealand actor who's had a big career in Australia television. He's also the only New Zealander who wasn't in Lord of the Rings. Surprising since he's naturally dwarfish.
Billing is already on his way to Queensland, Australia where he'll join "a whole heap" of Dufflepuds, be fitted for prosthetics, and then spend at least a week filming his scenes. I hope he's good at hopping. His fellow one-legged, big-footed, Dufflepuds aren't much on thinking for themselves. Instead they follow their chief around and do whatever he says. He hops, they follow.
Your Daily Blend of Entertainment News