Meet The Scrappy Pit Boss Character Cut From Guardians Of The Galaxy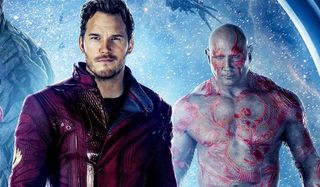 Movies are complicated creations that can change dramatically from the first draft of a script to the film's final cut. And one of these changes for Guardians of the Galaxy is pictured right here.
Shared by James Gunn via Instagram, this post reveals a scrappy Pit Boss who apparently had a run-in with Drax before he drunk dialed Ronan the Accuser. The caption for this behind-the-scenes Guardians of the Galaxy pic reads:
The actress in the dirty overalls and chunky highlights is Malta-born Marama Corlett. She made her movie debut in 2011 with a small role in the biopic The Devil's Double, which follows what it was like to be a body double for one of Saddam Hussein's son during a time when assassination attempts were feared. The following year, she landed a recurring role in the UK series Sinbad, which starred Elliot Knight as the titular pirate. This year, she had a minor role in the blockbuster Maleficent, but with actual lines and a scene with one of the film's titular characters, Guardians of the Galaxy was Corlett's biggest film opportunity by far.
While her scene may be on the cutting room floor, it's nice that Gunn gave her and her dedication to nailing her alien language a shout out here. With the runaway success that Guardians of the Galaxy has become, maybe--as Gunn suggests-- Marama Corlett could resurface in the inevitable Guardians of the Galaxy 2. She could always reprise her role as a no-nonsense pit boss. But hey, Marvel comic book movies have recast actors before, transforming Johnny Storm circa 2005's Fantastic Four into Steve Rogers circa 2011's Captain America: The First Avenger. So, Corlett need not only be considered should the Guardians return to the gambling dens of the Boot of Jemiah.
This has been an eye-opening day for characters cut from the adventures of the Marvel Cinematic Universe. In case you missed it, click here to discover how Jeremy Renner got cut from a thrilling Hawkeye action sequence intended for Captain America: The Winter Soldier.
As for Marama Corlett, here's hoping her scene will make it into the special features section when Guardians of the Galaxy hits DVD and Blu-ray later this year.
Your Daily Blend of Entertainment News
Staff writer at CinemaBlend.