Meryl Streep Is Still Uncanny As Margaret Thatcher In New Iron Lady Trailer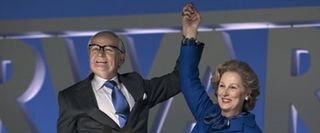 The first trailer for The Iron Lady, the upcoming biopic of former Prime Minister of the United Kingdom Margaret Thatcher, focused on Thatcher's iconic look and voice, and just how convincingly star Meryl Streep has submerged herself into the role. This latest trailer digs deeper into the story of the film, exploring both Thatcher's personal life and the struggles she faced on her way to the role of Prime Minister.
With this trailer providing a longer look at the film, it's even more amazing just how much Streep inhabits the role of Thatcher. I suppose I shouldn't be surprised. She is one of the most talented actresses in recent memory, and she's demonstrated similar chameleonic abilities such as when she transmogrified into Julia Child in Julie & Julia. Still, it's no wonder that she's already getting Oscar-nomination buzz for this one. If that happens, it would make this her 17th nomination, with Streep actually having won Academy Awards in 1980 for Kramer vs. Kramer and in 1983 for Sophie's Choice.
The Iron Lady was written by Abi Morgan, who has another movie grabbing headlines lately: Shame, the NC-17 drama starring Michael Fassbender as a sex addict. The British playwright also wrote the excellent BBC series The Hour, which aired on BBC America a few months ago. It's directed by Phyllida Lloyd (Mamma Mia!) and the cast includes the amazing Jim Broadbent as Margaret Thatcher's husband, Denis. The Iron Lady opens in limited release on December 30th, then expands to more theaters on January 13th.
Your Daily Blend of Entertainment News
Thank you for signing up to CinemaBlend. You will receive a verification email shortly.
There was a problem. Please refresh the page and try again.