Michael Arndt Confirmed To Write Star Wars: Episode VII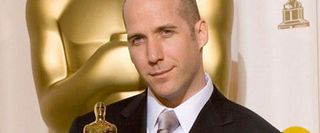 The amount of Star Wars rumors that have arisen since Disney announced they'd be making a new trilogy consisting of Episodes VII, VIII and IX have been flying around as fast and furious as a swarm of TIE fighters. But while every fan from here to Hoth is debating who should helm the next entry into this epic franchise, Lucasfilm is pushing into preproduction having committed to a screenwriter for Episode VII.
Just yesterday reports emerged that Michael Arndt, who went from Matthew Broderick's personal assistant to the Academy Award-winning screenwriter of Little Miss Sunshine in just seven years, was in talks with Lucasfilm to turn their treatment into a full-fledged script. And now it's official. StarWars.com has confirmed Arndt will write Star Wars: Episode VII. Producer Kathleen Kennedy and George Lucas himself have had story conferences with Arndt, and through them have become confident he is the best writer to tackle the next chapter in this still-expanding series.
Arndt seems a solid choice on several counts. For one, he has been described as a "Star Wars expert." Secondly, with Little Miss Sunshine he showed he has a gift for creating eccentric yet endearing characters, and notably he co-wrote Toy Story 3, which not only netted him his second Oscar nod but also displayed he can handle a character-stuffed action narrative. As for sci-fi experience, he also contributed to upcoming science-fiction adventures Oblivion and The Hunger Games: Catching Fire, so he seems well suited there. But the real question is, does he believe Han shot first?
Star Wars: Episode VII is scheduled to hit theaters in 2015.
Staff writer at CinemaBlend.
Your Daily Blend of Entertainment News
Thank you for signing up to CinemaBlend. You will receive a verification email shortly.
There was a problem. Please refresh the page and try again.