Michael C. Hall And Vera Farmiga Starring In Dexter Creator's Directorial Debut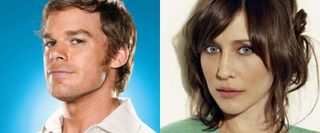 Charlie Kaufman apparently no longer has the market cornered for meta, self-referencing screenplays about an eponymous screenwriter falling apart. Dexter creator James Manos Jr. is giving a similar kind of story a go, setting forth on his directorial and feature writing debut with Love, Scotch and Death. His Dexter leading man Michael C. Hall will star in the film that was once titled The Slow And Complete Decompensation of Jim Manos-- and yes, that's where the Charlie Kaufman similarities start to come in.
According to Deadline Vera Farmiga will also star in the film, which focuses on a character named Jim Manos in the middle of a very, very strange week. I'll just let the Deadline explanation do the duty here:
Aside from a handful of movie roles, such as the godawful Gamer and the little seen new indie Peep World, Hall has been acting almost exclusively on television since Six Feet Under started airing in 2001. It'll be interesting to see him take on a lead role that has nothing to do with David Fisher or Dexter Morgan, and especially to go toe-to-toe with Farmiga, an actress far more than capable of holding her own. Production starts this November, after the sixth season of Dexter has wrapped.
Your Daily Blend of Entertainment News
Staff Writer at CinemaBlend