Michael Fassbender Fulfills Destiny To Be A Rock Star In Indie Drama Frank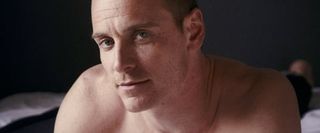 The phrase "rock star" is kind of an antiquated way to say someone is cool, actually-- these days rock and roll isn't so much thriving and surviving, and arguably the coolest musicians in the world these days-- Jay-Z, Kanye, et. al.-- are rappers. But still, "rock star" seems like a pretty apt way to describe Michael Fassbender, who's slowly taking over the world with one awesome performance after another, inspiring people who loved him in X-Men: First Class to check out smaller films like Shame, and in turn inspiring everyone, everywhere, to cast in him everything.
And that last bit is what leads us to today's news that Fassbender will be playing a literal rock star, in the British indie Frank. According to THR he'll be starring opposite up-and-comer Domhnall Gleeson (soon to be seen in Joe Wright's Anna Karenina), playing the leader of an eccentric pop band joined by Gleeson's young wannabe musician. Jon Ronson, who wrote the book The Men Who Stare At Goats and who is a frequent contributor to This American Life, wrote the script along with Peter Straughan, and Lenny Abrahamson is set to direct.
The movie is described as a comedy, which will hopefully give Fassbender a chance to show off the sense of humor that's appeared only in flashes in his previous work-- like the wry Archie Hicox in Inglorious Basterds or the rare moments when Magneto flashed a smile in X-Men. Frank is set to start shooting later this year, and could easily make a fall release this time next year, joining Twelve Years A Slave and The Counselor to make 2013 yet another banner year for Fassbender.
Staff Writer at CinemaBlend
Your Daily Blend of Entertainment News
Thank you for signing up to CinemaBlend. You will receive a verification email shortly.
There was a problem. Please refresh the page and try again.