Michael Fassbender Hoping To Play Ancient Irish Warrior Cuchulain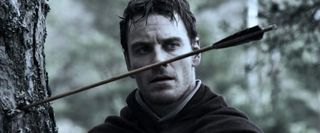 Michael Fassbender may have developed a serious international profile over the last year, starring as Magneto and Rochester and the troubled sex addict Brandon of Shame, but he's apparently still loyal to his Irish roots. Variety reports that Fassbender is developing a film with screenwriter Ronan Bennett about the Celtic warrior Cuchulain, the hero of an old Irish legend with superhuman fighting skills. Fassbender, happily, will be playing the warrior, and is raising money for the project through his impeccably named production company, Finn McCool.
Fassbender has a little experience playing a fighter from at past age, starring in the totally over-the-top Neil Marshall film Centurion, but it sounds like the Cuchulain film would be much closer to his heart, something he's able to develop thanks to his newfound stardom. The question now is when he'll have time to make it. There's a sequel to X-Men: First Class in the works that reportedly will focus on Magneto, and there's the rumor that he might star for Ridley Scott in an adaptation of Cormac McCarthy's The Counselor There's also Steve McQueen's next film Twelve Years A Slave, in which Fassbender is also set to star. When will he have time for this Irish epic amid all this?
He probably has some time to work it out, since funding for independent film can often take forever. In the meantime, all hail Michael Fassbender, for becoming a big movie star very suddenly but still pursuing projects that actually matter even in the middle of all of that.
Your Daily Blend of Entertainment News
Staff Writer at CinemaBlend
Your Daily Blend of Entertainment News
Thank you for signing up to CinemaBlend. You will receive a verification email shortly.
There was a problem. Please refresh the page and try again.