Michael Fassbender Joins All-Star Irish Cast For Brendan Gleeson's Directorial Debut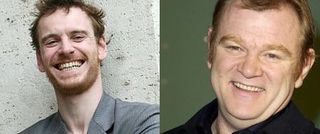 Brendan Gleeson, the Irish actor known for everything from his role as Mad-Eye Moody in the Harry Potter series to his new film with Martin McDonagh, The Guard, has worked with enough brilliant directors over the years that he's finally ready to take the plunge himself. And the benefit of being a talented Irish actor-turned-director is apparently that every good actor who hails from that island will come along with you for the journey. Screen Daily reports that an all-star crew has joined Gleeson's film At-Swim-Two-Birds, including Colin Farrell, Cillian Murphy, Gabriel Byrne, Gleeson's own son Domhnall, and man-of-the-moment Michael Fassbender.
You pretty much only need to add Liam Neeson in there to get an Awesome Irish Actor royal flush, and who knows, Gleeson may talk him into it before too long. Oddly enough, none of these actors appear to be eligible to play the main character-- Screen Daily wits that the story follows a teenager who adds characters from his own life into his creative writing. Gleeson adapted the script from Flann O'Brien's 1939 novel, which O'Brien himself apparently described as "a very queer affair, unbearably queer perhaps." But hey, he also talked Joyce into writing a blurb, calling it "a really funny book." Between Gleeson's recommendation and Joyce's, what more do you really need?
Gleeson is aiming to start shooting in the spring next year, and believe it or not, Fassbender actually has enough free time ahead of him to make it work. Though he's everywhere this year, with Jane Eyre and X-Men: First Class already out and A Dangerous Method coming this fall; next year he'll be nearly as ubiquitous, with Steven Soderbergh's Haywire releasing in January, Prometheus coming in June and Steve McQueen's Shame showing at some point as well. But after being unbelievably busy for several years now, Fassbender's actually got a clean slate, and it's nice to see him making time for a smaller project with some great actors rather than chasing down a new franchise. It looks like success has yet to turn him boring, and hopefully we can keep him that way.
Your Daily Blend of Entertainment News
Staff Writer at CinemaBlend