The Monopoly Movie Just Took A Big Step Forward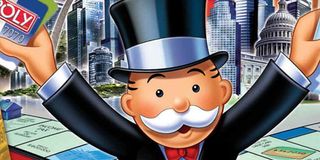 Of all the absurd ideas for commercially motivated films based on known properties, the long-gestating Monopoly movie certainly distinguishes itself as one of the most prominent. However, it appears that after a nixed summer shoot, the board of this prospective big-budget game bonanza has been reset with the acquisition of a new scriptwriter, revealing an intriguing family-friendly direction.
In an official announcement from the film's financier, Lionsgate, it was revealed that screenwriter Andrew Niccol has been tapped to pen the Monopoly script. Niccol is known as the rather eclectically focused scribe behind the groundbreaking Jim Carrey concept comedy, The Truman Show, dystopic sci-fi vehicle, Gattaca, Tom Hanks dramedy, The Terminal, and the 2013 failed YA tent-pole attempt, The Host. The acquisition indicates a possibly wholesome direction for the Monopoly film. According to the film's official description:
Seemingly a long-running joke about the developmental side of the business, Monopoly has been on Hasbro Toys' backlog since 2008 with hopes of finding the right vehicle to boost board game sales. The project's initial manifestation, with the Alien, Blade Runner, and Gladiator visionary Ridley Scott attached to direct, was apparently a much different rendition of the simulated cinematic capitalism. However, even a name the caliber of Scott could not fend off the derision leveled at the rather ridiculous concept and after a few years, he detached himself.
The toy company ended up sending another one of its board game properties to the "Go" square first in 2012 with director Peter Berg's Battleship. A massive, Michael Bay-esque eyesore of an alien invasion action romp, with a luck-deprived Taylor Kitsch atop the marquee, the film was an expensive dud that did little to elevate the board game branding. Yet, on the flip side of that boondoggle was last year's Ouija, which, armed with a conservative budget, managed to carve out a profitable, albeit low-key cinematic success as an insular horror film vehicle. While that film hardly took the world by storm, it represented a $102.5 million global return on a measly $5 million budget investment from Universal. With a Ouija sequel set for 2016, we see how absurd commercial concepts can sometimes translate to profits with well-managed finances.
With Niccol hacking away at the Monopoly script, we could be getting a film that looks to deal with fantastical concepts buttressed by the necessary amount of inspirational pathos that will cause a moviegoing audience to associate good feelings with one of the most iconic, beloved board games in existence. Released in 114 countries in 47 languages across the globe, name recognition will certainly not be an issue for this film. Given his literary repertoire, Niccol will hopefully craft a film that avoids the ostentatious pitfalls of Battleship while showcasing a bit more ambition than Ouija.
At the moment, no details have been revealed regarding a potential director or, for that matter, any production or release timetables for Monopoly.
Your Daily Blend of Entertainment News
Thank you for signing up to CinemaBlend. You will receive a verification email shortly.
There was a problem. Please refresh the page and try again.