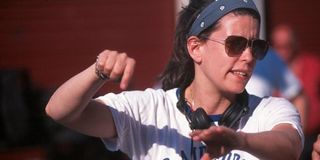 Patty Jenkins has not directed a movie since 2003's Monster. What has she been doing for the last decade? Working in television, waiting to re-enter the cinematic rat-race, as most directors would do. But now it seems like Patty Jenkins and Sweetheart have become the ideal match, one that will help Jenkins return to the big-time.
Deadline reports that Patty Jenkins is the director of choice for Sweetheart, a script from screenwriter Jack Stanley that was good enough to land on the Black List (the annual list of the most popular unproduced screenplays in Hollywood). The film revolves around a hit-woman who is attempting to retire, but ends up dragged back into the business of killing people after the unlikely combination of a one-night-stand and high school reunion. Stanley's script earned enough attention that it's gotten him the job penning Chronicle 2, and his script is apparently quite comedic in tone - miles away from deeply dark and disturbing Monster.
Since 2003, Jenkins has spent the years working on shows as diverse as Arrested Development, Entourage and The Killing. This seems like an unusual fate considering Monster was a critically-acclaimed movie that earned Charlize Theron an Academy Award. Helping a movie star win an Oscar seems like the sort of thing that gets you work forever, but Patty Jenkins apparently couldn't catch a break. For a while it looked like she was close to returning to the big screen when she briefly sat in the director's chair for Thor: The Dark World, but "creative differences" (i.e. Jenkins wanted to make it interesting?) ended that relationship. Now it's been more than a decade without Jenkins in charge of a movie, major or otherwise. At the same time, we won't soon forget the emotional impact that Jenkins and Theron teamed up to deliver in their collaboration, creating something very powerful and transformative for the South African actress:
My honest hope is that Charlize Theron re-teams with Jenkins on this project. It's not like Theron doesn't owe Jenkins a favor, and this would be another opportunity for the actress to establish herself as a genuine funny lady - as she's doing in the upcoming (and sort of demeaning-looking?) A Million Ways To Die In The West. Charlize Theron will be hosting Saturday Night Live this weekend to give viewers a further reminder of her comedy chops. A part that requires her to be goofy and tough like Sweetheart's hitwoman lead could be a godsend, particularly because it will reunite her with Patty Jenkins.
Currently the running tally on 2014 wide-release films directed by women is six. One of them is co-directed by a man (Jupiter Ascending), and two center on the relationship between men and sports (Niki Caro's McFarland, Angelina Jolie's WWII-set Unbroken). That lack of diversity just doesn't work for the industry. It's great that Jenkins is getting another shot. Hopefully, this reaches enough audiences to keep her employed for good.
Your Daily Blend of Entertainment News