More Blood, Violence And Boobs In Lawless Red-Band Trailer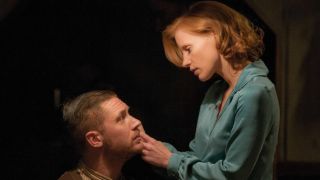 (Image credit: Annapurna)
With their thirst for power, debauchery and carnage, gunslingers and gangsters have fascinated movie audiences since their earliest incarnations. From Edward G. Robinson and James Cagney to Al Pacino and Robert De Niro, we have long reveled in their tough guy bravado and the frightening yet tantalizing mayhem they have wrought on screen. Now Tom Hardy and Shia LaBeouf will join their ranks playing the bloody-knuckled, brawling and bootlegging Bondurant brothers in John Hillcoat's Lawless.
Based on the Matt Bondurant's novel The Wettest Country in the World, Lawless tells the remarkable and true story of his grandfather and two granduncles who lived far from the sparkling metropolises most often associated with gangsters, instead residing deep in Franklin County, Virginia. Here Forrest, Jack and Howard Bondurant made the best out of the Prohibition Era by getting rich making moonshine and dodging the law who wants in on their profits.
Adapted by songwriter turned screenwriter Nick Cave and helmed by John Hillcoat (The Road), the tale of the Bondurant boys gets brutal, as you'll see in the red-band trailer below. Be warned, it's NSFW.
Beyond offering more blood, violence and boobs than trailers one and two, this promo eschews the hyped up music and gritty graphics they favored, focusing more on the film's deeply dark tone and the danger within. From its first frame this promo reveals the gruesome end a bootlegger can come to in these dirt road communities. From there the tension brews like a storm, introducing Guy Pierce's slick and creepy deputy and succinctly displaying the film's central war, as his dapper and sneering lawman faces Hardy's hardened and scruffy roughneck. With a cast that also include Jessica Chastain, Mia Wasikowska and Gary Oldman, Lawless looks to be a must-see.
Lawless hits theaters on August 29th. For more on the film and lots of images click here.
Your Daily Blend of Entertainment News
Staff writer at CinemaBlend.