Morgan Spurlock Strips Down For POM Wonderful Presents: The Greatest Movie Ever Sold Movie Poster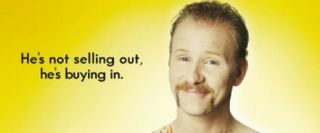 When I interviewed Morgan Spurlock at the Sundance Film Festival, he was wearing, as promised to his sponsors, a suit bearing all the logos of the companies that funded his new film, POM Wonderful Presents: The Greatest Movie Ever Sold. The new documentary from the Super Size Me director tells the story of how he got those sponsorships, and if it sounds a little complicated, it's meant to be--the documentary is a very, very meta exploration of corporate sponsorship, product placement, and how the right collection of corporations can make pretty much any film possible.
In his trademark style Spurlock is putting himself both at the center of the film and the marketing campaign, and that goes double for the film's first poster, in which he takes the logo-emblazoned suit to a new level. Check out the poster, sent to us by Sony Pictures Classics, below, and be grateful that it's just amazing Photoshop and that Spurlock (probably?) hasn't done the full commitment and tattooed logos on his entire body. You can see a larger version of the poster, and learn everything else you need to know about the movie, in our Blend Film Database. POM Wonderful Presents: The Greatest Movie Ever Sold hits theaters on April 22, and thought it may be a little strange to be looking at Spurlock's naked, tattooed body in movie theater lobbies until then, the movie is worth it.
Staff Writer at CinemaBlend
Your Daily Blend of Entertainment News
Thank you for signing up to CinemaBlend. You will receive a verification email shortly.
There was a problem. Please refresh the page and try again.