The Most Badass Rock Band Is Getting A Scandalous Biopic, Get The Details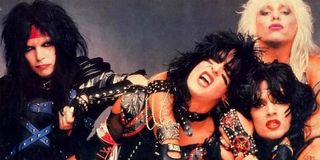 After sitting on the bookshelf for for a long while, the bestselling collaborative autobiography written by one of the most badass rock bands of all time, Motley Crue, is finally going to be made into a movie. With a screenplay already at disposal, Focus Features just picked up the scandalous biopic in hopes of getting it up and running.
According to The Hollywood Reporter, Focus Features picked up the biopic along with Jeff Tremaine to direct. Tremaine, the director of the Jackass movies should have no problem bringing the extreme, hedonistic story to life. The screenplay was written by Rich Wilkes, xXx writer, and Tom Kapinos, writer for Californication. If the script has any inkling of their their styles demonstrated in xXx and Californication you know it is going to be a gritty ride.
The notorious rock band must be thrilled to see the project moving forward. Members of Motley Crue have been vocal about their desire to see their story brought to the big screen for years. At one point Paramount had picked up the film, and was ready to work with Fight Club director, David Fincher. Even Larry Charles had been attached to the project for some time. But, what stands as one of the most extraordinary rock autobiographies ever written, took its fine time to finally come to production. And hopefully it will be well worth the wait, filled with the unbelievable, and the ultra-scandalous.
Last year, two members of the band, Tommy Lee and Nikki Sixx, attended a script reading with the current attached director. After the reading Lee told GMI Rock News about what he had just heard:
And for Tommy Lee, of all people, to be that in awe of watching his life brought to a screen, it must be pretty spectacular. And "Triple R'? Really? But, don't fret. This graphic tale won't be portrayed by the stardom associated with certain other Tommy Lee tape scandals. Lee said the film would not include any big acting names. He continued:
Apparently the actors who are cast will also join the band on tour, to authenticate their characters as much as possible. This all sounds nuts, but there is no doubt that the film will include some crazy stories that will be pretty epic on the big screen. The search for actors will begin shortly, and boy will those 'up-and-comers' have their work cut out for them. Let's just hope their time on tour doesn't lead them into the actual trouble they'll be portraying in the film.
Your Daily Blend of Entertainment News
Thank you for signing up to CinemaBlend. You will receive a verification email shortly.
There was a problem. Please refresh the page and try again.