The Most Searched For Movies Of 2015, According To Google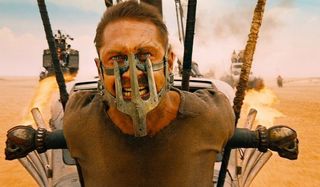 There may not be a more democratic way to see what movies people were interested in throughout 2015 than search results. It should be a strong indicator of the things that movie fans wanted to read about. Google has released their list of the most searched movies this year, and while most on the list won't be surprising -- they were all successful films this year -- their order doesn't match the box office totals.
Half of the Top 10 box office successes don't even makethis list, while one of the films wasn't even from this year. Check out the most searched for films of 2015. Are your choices on here?
10. Mad Max: Fury Road
Box Office Totals: $153,636,354 (Domestic)
Our Review:
"As crazy, thrilling, gorgeous and awesome as anyone could really hope, and guaranteed to be one of the best big-screen spectacles of the year."
9. Minions
Box Office Totals: $336,033,085
Our Review:
"In the end, Minions' annoying tendencies are ultimately more than made up for by a luscious aesthetic, fast-paced energy, and plain old-fashioned silliness that you can't help but fall for."
8. Avengers: Age of Ultron
Box Office Totals: $459,005,868
Our Review:
"Joss Whedon understands what makes these dysfunctional heroes tick, and there's an immeasurable delight that comes with seeing them in action, together, on the big screen."
7. Inside Out
Box Office Totals: $356,461,711
Our Review:
"Inside Out has the exact same kind of old school Pixar magic that turned the company into the biggest modern name in animated feature films. It's a perfect addition to the ever-growing legacy. It's a phenomenal, touching and special piece of art, and fittingly a mind-blowing and emotional experience."
6. Pitch Perfect 2
Box Office Totals: $184,296,230
Our Review:
"I found this sequel to be fun, goofy and an overall crowd-pleaser. When it comes to prospective initiates, though, Pitch Perfect 2 might be a tough sell."
5. Furious 7
Box Office Totals: $353,007,020
Our Review:
"You're never given a milliseconds rest, and the entire blockbuster unfolds like an elongated music video to the most mainstream song you've never heard."
4. 50 Shades of Grey
Box Office Totals: $166,167,230
Our Review:
"Done well, Fifty Shades Of Grey could have introduced a mainstream audience to the intriguing world of BDSM...Instead Fifty Shades Of Grey never verges on the complex, and as a result is both painfully lame and tediously simplistic."
3. Straight Outta Compton
Box Office Totals: $161,197,785
Our Review:
"There's a lot of story that needed to be pushed out in two-and-a-half hours, but rushing through the material leaves little opportunity to explore more emotionally charged moments in these men's lives. [Y]ou can tell, despite its faults, that audiences will easily invest themselves in this story."
2. American Sniper
Box Office Totals: $350,126,372
Our Review:
"[T]he longer you wear American Sniper, the better it fits. Eastwood doesn't flinch from the horrifying acts of war that took place during the Iraq War. But the movie shortchanges Kyle's blood relatives in favor of the 'family' he fought and died for in the military."
1. Jurassic World
Box Office Totals: $652,270,625
Our Review:
"It's not exceptional in any specific way, but it satisfies as a fun summer blockbuster that will get audiences excited to see dinosaurs on the big screen again. For what it's worth, it's one of the best Jurassic Park movies we've seen."
Your Daily Blend of Entertainment News
Content Producer/Theme Park Beat
CinemaBlend's resident theme park junkie and amateur Disney historian. Armchair Imagineer. Epcot Stan. Future Club 33 Member.