The Music Of Inside Llewyn Davis Is Celebrated In New Showtime Documentary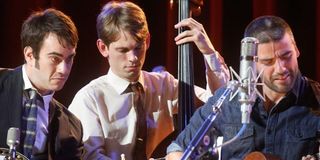 Recently unveiled in limited release, Joel and Ethan Coen's Inside Llewyn Davis has been gathering plenty of praise for its poignant story about a 1960s folk singer as well as for its sensational soundtrack shepherded by Academy Award-winning music producer T-Bone Burnett. Well, to arouse further fascination ahead of its December 20th expansion, the Coens and Burnett have created the inclusive concert documentary Another Day / Another Time: Celebrating The Music of Inside Llewyn Davis, which premieres Friday, December 13th at 10PM on Showtime.
This doc takes audiences on the stage of Town Hall and behind the scenes of a special concert that was held during this year's New York Film Festival, featuring talent like Joan Baez, Patti Smith, Jack White, Marcus Mumford, the Avett Brothers, Rhiannon Giddens, Punch Brothers, Gillian Welch and David Rawlings, Willie Watson, The Milk Carton Kids, Colin Meloy, Lake Street Dive, and Oscar Isaac, star of Inside Llewyn Davis. Put together in just 36 hours, this rousing musical event delighted audience last September, and has since been distilled for all of us who missed out.
Wednesday night I had the unique opportunity to see Another Day / Another Time screen in New York's Walter Reade Theater, with both Coens and some of its contributors (Oscar Isaac, Chris Thile of the bluegrass band Punch Brothers, and Kenneth Pattengale of the indie folk duo The Milk Carton Kids) in attendance. As you might have guessed from this lineup, the concert within the doc is a more expansive brand of folk music than is shown within Inside Llewyn Davis, which is squarely focused on the American folk music revival of the 1960s. The music ranged from Celtic folk to indie rock, doo-wop, bluegrass, and jazz. But it all shared a thread of energy and deep-rooted emotion that knitted every act into the next, making for an awe-inspiring tapestry of American music.
No expense seems to have been spared in corralling top notch talent nor rigging a multiple camera setup that gives viewers an uncanny access to the performers on stage--from various angles--as well as an eye looking back to crucial rehearsals, and down into the basements of Town Hall where jam sessions seemed to break out from sheer enthusiasm. Personally, I wasn't familiar with much of the musical acts that took to stage, but it didn't matter. There's something in the songs performed that is timeless, luring me in to a swoon where several times I forgot I wasn't at a live show, and began applauding as if those on the screen could hear me.
There's no over-arching plotline in Another Day/Another Time. No time is spent concocting drama of a "will the show go on" nature or stirring up tension between its headliners. Instead, stories are presented within songs, ones of heartache and exaltation, ones of regret and reveling. Many acts and influences collide over the course of the show's selected highlights, and each of them is enchanting, inviting us into what seems an intimate event. Early on Thile theorizes that the lore of the 1960s Greenwich Village setting of Inside Llewyn Davis, is that cultural scene felt like it was "America's campfire." Another Day/Another Time captures that vibe of warmth and unity, and graciously invites you join in from the comfort of your home.
Your Daily Blend of Entertainment News
Staff writer at CinemaBlend.