My Blueberry Nights Poster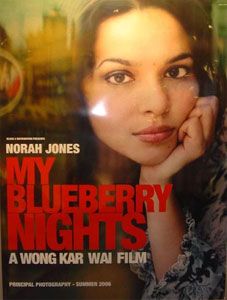 Following the shot of Natalie Portman on the set of My Blueberry Nights, the film's marketing campaign is just getting started, as we get our first look at a lackluster theatrical poster from NewestPosters.com.
My Blueberry Nights is the first American film by Hong Kong director Wong Kar-Wai, following the phenomenal In The Mood For Love and 2046. Wong is arguably one of the most important directors alive and working today, and he is capable at capturing some of the richest images the film world has to offer. Although Jones' name has top billing, the reflective blend of saturated yellows, greens and reds are straight-up Wong Kar-Wai.
Norah Jones stars in what's essentially a road movie. The film tells the story of a shopkeeper who falls in love with a mysterious woman who travels across the U.S. in search of the true meaning of love. She also happens to love blueberry pie. Natalie Portman and Jude Law a just a few of the oddball characters Jones meets in her Journey. The film premiers at the Cannes Film Festival on May 16; unfortunately, My Blueberry Nights' swirl of romance and regret until October.
Your Daily Blend of Entertainment News