NBA Team Changing Its Jersey To Honor The Movie Hoosiers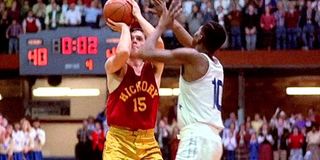 In a move that seems to evoke the line, "welcome to Indiana basketball," the quintessential basketball film, Hoosiers, will be honored in a huge way this year on the sport's premiere stage in the NBA. The Indiana Pacers will don uniforms inspired by the classic film this upcoming season.
Coming by way of an official announcement, it was revealed that the Indiana Pacers will pay tribute to Hoosiers by wearing the Hickory High School uniforms showcased in the inspriational 1986 film for select games during the 2015-2016 season. The promotional team-up with MGM Studios, which is celebrating the film's 30th anniversary, also presents an opportunity to evoke the passionate history the sport has traditionally had within the state. However, the power of nostalgia could also have a positive effect on the team. As Pacers President of Basketball Operations, and all-time great, Larry Bird explains:
The 1980's, to mixed results, produced more than its share of cinematic attempts at empowering sports movies. Yet, Hoosiers always stood above the pack. Besides having the obvious, superficial glories pursued by protagonists in sports films, it also served as a character study of a washed-up former college coach running from shameful violent incident in his past, looking for one last shot in Gene Hackman's superb performance as coach Norman Dale. His tumultuous tenure started quite inauspiciously with community friction, but eventually led to a defining state championship win for the Hickory team in 1952.
In that sense, the Hickory uniforms the Pacers will sport this season represent the unique sense of community throughout the state in which the sport of basketball served as the critical glue. As you can see in the above tweet with Pacers star, George Hill, modelling the rendition of the Hickory uniforms that the team will bring to the court, there's a certain level of historical pride in these seemingly plain pieces. Deviating from the team's traditional blue and gold colors, there is a gritty minimalism displayed that evokes the undeniable passion of history. Refresh yourself with the inspiring power of Hoosiers by watching those rousing rags in action in the trailer below.
In the film, the people of the hayseed hamlet of Hickory collectively became a dominant character in their own right, allocating a level of obsessive importance to a high school basketball team with a handful of players that seems unfathomable to the resident of any town that at least has a Starbucks. Yet, for all the inexplicable eccentricity of the populace's obsession with the amateur athletic achievements of teenagers, an endearing, undeniable passion for the sport of basketball shines through. The Pacers might just tap into that unbridled desire with these throwback uniforms.
Your Daily Blend of Entertainment News
Thank you for signing up to CinemaBlend. You will receive a verification email shortly.
There was a problem. Please refresh the page and try again.