Napoleon Dynamite Marks 10th Anniversary With Statue, Cast Reunion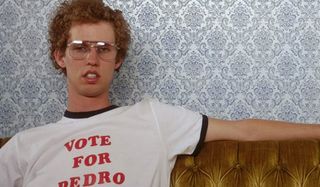 It's hard to believe but we're fast-approaching the 10-year anniversary of Napoleon Dynamite's theatrical debut. The offbeat coming-of-age comedy about the titular, deeply gawky anti-hero hit theaters in limited release on June 11th, 2004, following a buzzed about world premiere at the Sundance Film Festival. It wasn't long before Napoleon, his funky family, and loyal but loopy friends had won fans all across the nation. And in celebration of all of the above, Fox Searchlight Pictures has revealed a commemorative bronze stature of Napoleon Dynamite in his iconic outfit, complete with Vote For Pedro T-shirt, high-waisted jeans and moonboots.
In the image up top, you can see Napoleon Dynamite star Jon Heder standing next to his most famous portrayal's flashy statue, which is being presented on the Fox lot in Los Angeles. But he's not the only one who turned out for the big unveil. In this second shot, you can see much of the original cast reunited, including Pedro (Efren Ramirez), Deb (Tina Majorino), Summer Wheatly (Haylie Duff), Grandma (Sandy Martin), and Lafawnduh (Shondrella Avery).
Post by Fox Searchlight Pictures.
In this alternate angle shot, you can also see that Napoleon's statue is made to hold the ball for a nearby tetherball setup.
And the special guest of this unexpected reunion, Tina!
Post by Fox Searchlight Pictures.
Here's another Tina pic from someone attending the reunion celebration. Why aren't we all there, right now?
Commemorative Statue round-up: Napoleon Dynamite has a statue. Roger Ebert does too. RoboCop is still waiting.
Your Daily Blend of Entertainment News
Staff writer at CinemaBlend.