Neighborhood Watch Footage At CinemaCon Reveals The Aliens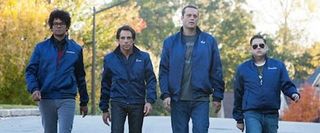 Due to the situation with Trayvon Martin and George Zimmerman, the upcoming Akiva Schaffer-directed comedy Neighborhood Watch has hit a few speed bumps. The controversial case has not exactly primed people to laugh about private security groups and vigilantism. To combat this, it was revealed earlier this month that the film's marketing would start focusing more on the science-fiction side of the story and the alien invasion that drives the plot. That apparently has begun with the footage shown at CinemaCon.
This morning I attended the 20th Century Fox presentation held at the Caesar's Palace Colosseum and as part of previewing the studio's 2012 slate, they also showed off the full feature trailer for Neighborhood Watch and I have a full description of the footage for you below.
The trailer begins with Evan (Ben Stiller) standing next to an easel in his living room with Bob (Vince Vaughn), Franklin (Jonah Hill) and Jamarcus (Richard Ayoade) sitting on a couch in front of him. Evan seems motivated to actually try and do some good to help the community, but their goals change when Bob suggests that they move to his dude cave and thus begins a sequence in which the boys are seen having fun and hanging out without their families.
Then each character is singled out individually with his own title card. Evan's sequence has Stiller and Vaughn sitting down on a bench talking about how Evan's wife wants to have a baby but nothing is happening, and Vaughn making a series of crude jokes about "laying the pipe" day in and day out. The next centers on Bob, who talks about how excited he is at the prospect of hanging out with the guys. For Franklin's segment, he is shown talking with a pair of gorgeous blonde twins and he hits on them by talking about his connection to them like he's their triplet. Lastly, Jamarcus is put front and center and talks about his ultimate fantasy woman being a sexy Asian housewife left alone at night…an idea that Franklin very much agrees with.
Fun as it all seems, we are then introduced to the conflict at the center of the film. While the four men are driving around singing Bachman Turner Overdrive's "You Aint Seen Nothing Yet," they accidentally hit something. Getting out to inspect the damage, they find a strange green goo in the grill of the car and a mysterious looking creature in the bushes. Trying to coax it out, Evan says, "I see you!" and is then attacked by an alien, who is tall, skinny, brown and has strange yellow eyes. The crew is then shown in another scene realizing that they are dealing with an alien invasion. Then it cuts to a shot of the group standing around a strange black ball and Evan warns that they shouldn't touch it until they know what it does. Unfortunately, one of the team touches the orb and it sends out a blue light that explodes a nearby cow and Bob exclaims, "This thing's awesome!" The trailer ends with the group back in Bob's dude cave where a dead alien is lying in a Barcalounger. They begin to party with the creature's body, taking pictures, dancing with it and so forth. The scene ends badly, however, because the alien is still alive and begins to trash the dude cave.
Overall, the video gives us a much clearer version of what the movie is actually about and I found it to be quite funny. The four leads seem to have a fun dynamic between them and I'm looking forward to seeing how it's explored in the actual film.
Neighborhood Watch hits theaters on July 27th and to see more from the movie you can head over to our Blend Film Database.
Assistant Managing Editor
NJ native who calls LA home and lives in a Dreamatorium. A decade-plus CinemaBlend veteran who is endlessly enthusiastic about the career he's dreamt of since seventh grade.
Your Daily Blend of Entertainment News
Thank you for signing up to CinemaBlend. You will receive a verification email shortly.
There was a problem. Please refresh the page and try again.