Neil Patrick Harris As The Flash?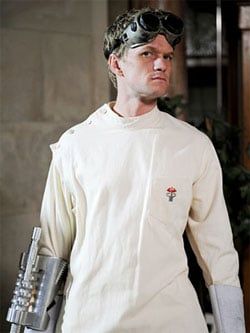 Earlier this week, my computer exploded. Literally. There was smoke. That's my excuse for missing this humdinger of a rumor (Do people still use the word humdinger? Well they should.), which made the rounds on Monday after being dug up by our friends over at ScreenRant.
Brace yourselves. Ready for it? Neil Patrick Harris as The Flash. ScreenRant's story waves the "insider information" warning and claims that he's one of two actors (the other being Friday Night Lights star Scott Porter) being pursued for the part. Where, why, or how they got this whopper of a casting rumor remains, as of yet, unknown. Consider it wild speculation until there's further confirmation, and click over there for more details.
There's no denying that Neil Patrick Harris has become a sought after commodity in recent years. His work in Harold & Kumar got the ball rolling, but it's his scene stealing performance on TV's How I Met Your Mother that's really had people paying attention. And it's not like this would be his first superhero project. NPH played the super-villain in Joss Whedon's superhero web-musical Dr. Horrible earlier this year.
Dropping NPH in a serious, drama seems almost a waste of his talents though. Could this be a comedic take on The Flash? The character has, at times, been portrayed as at the least ,a guy with a wacky sense of humor. Or maybe NPH as the movie's villain? Dr. Horrible versus The Flash? Bring it on. I need to see that.
Your Daily Blend of Entertainment News
Thank you for signing up to CinemaBlend. You will receive a verification email shortly.
There was a problem. Please refresh the page and try again.