Nightcrawler Just Got An Incredible F-Bomb Filled Red Band Trailer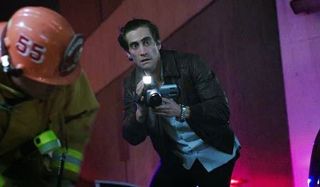 Warning this trailer is NSFW.
I'm pretty sure this is the first time I've ever seen a movie trailer offer up the pullquote "fucking amazeballs." But when it comes to the new Jake Gyllenhaal vehicle, what else can you say? Well, I suppose you could call it a "deliciously twisted," "wicked fun," "fucking bonkers," or "full-on masterpiece." All those work.
Nightcrawler stars Jake Gyllenhaal as Lou Bloom, a man who exists on the fringe of Los Angeles society, desperate to find a way to make a living. When he stumbles across a "nightcrawler" gig --working as a freelance videographer who rushes to grab footage of crimes, car crashes and other catastrophes--for the morning news, he finds a career path that suits him well. But to succeed, he'll need to take some dark turns.
We first got word of writer-director Dan Gilroy's Nightcrawler in the spring of 2013, when Jake Gyllenhaal and Rene Russo signed on to star. He was set to play the titular anti-hero, while she was lined up for the role of Bloom's first client - who selects news footage for a local news broadcast.
Then last summer, we got our first glimpse of Gyllenhaal as Lou Bloom. As you can see from the teaser below, the typically brawny star slimmed down considerably. In the Nightcrawler promos he looks underfed, gaunt--and frankly a bit skeevy.
Nightcrawler made its world premiere this past September at the prestigious Toronto International Film Festival before hitting a slew of other cinema events, including Fantastic Fest. Now, this Halloween it finally hits theaters, ushered in by a wave of critical praise calling it funny, frightening, and one of the best films of the year. This is all good news for Gyllenhaal.
Jake Gyllenhaal has been forging a seriously compelling career the past decade. In 2005, he delivered three very wildly different portrayals from Brokeback Mountain to Proof and Jarhead. The first of these earned him his first ever Oscar nod. Then in 2007, he tore into true crime with David Fincher's totally chilling docudrama Zodiac. In 2012 and 2013, he took on a pair of cop dramas with End of Watch and Prisoners, and earned critical praise for both. Later, he played two parts in the thriller Enemy, and now he's back with what might be his most disturbing (and rewarding) role yet.
Could the early buzz on Nightcrawler carry it smoothly into Oscar season? Having seen the film and the riveting performance Jake Gyllenhaal turns in, I'd say chances are good.
Nightcrawler opens October 31st.
Your Daily Blend of Entertainment News
Staff writer at CinemaBlend.