Now It's Django Unchained Action Figures Causing Controversy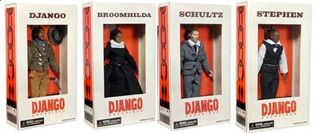 Quentin Tarantino's Django Unchained has been scoring just about every kind of headline lately. The spaghetti western has won critical praise as well as five Golden Globe nods, and seems poised for some major award nominations from the Academy Awards. It's also charting amazingly well among audiences, and with more than $108 million in box office totals in just two weeks, it's on track to be Tarantino's highest grossing effort to date. But there's been plenty of scandal too.
Django Unchained has stirred outrage among those who fear its pre-Civil War-set tale of a freed slave seeking revenge on the plantation owner who has imprisoned his wife is insensitive to the horrors of that era of U.S. history. Others have been enraged over the film's frequent use of a certain racial slur, while some have accused the very violent movie—and any like it—of being a source of inspiration for real-life murders like the recent Sandy Hook tragedy. But while we've been regularly covering these controversies, none of us expected the next one to arise over the film's collectible action figures.
The Associated Press reports Najee Ali, director of the advocacy group Project Islamic Hope is calling for a removal of the toys—which you can see above—from the market, calling them " a slap in the face of our ancestors," adding, "We feel that it trivializes the horrors of slavery and what African Americans experienced."
The line of action figures, recommended for ages 17 and up, are currently available for sale online and were manufactured by NECA (National Entertainment Collectables Association) by the approval of the Weinstein Co. NECA's main business is making carefully detailed collectible toys for films as wide-ranging as Carrie, Rocky, Friday the 13th and The Hunger Games. The AP piece notes that all of Tarantino's films have gotten the action-figure treatment, including his last historical revenge fantasy Inglourious Basterds.
Interestingly, While Ali is incensed over the Django Unchained action figures, he has no problem with the film itself. In fact, he told the press he had liked the film, and had already seen it twice.
Staff writer at CinemaBlend.
Your Daily Blend of Entertainment News
Thank you for signing up to CinemaBlend. You will receive a verification email shortly.
There was a problem. Please refresh the page and try again.