Olympus Has Fallen Will Blow Up On Blu-ray And DVD In August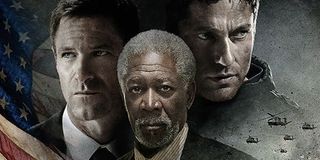 Olympus has Fallen hit theaters back in March, where it did decently at the box office and slightly less decently with reviews. Being a spring flick, the movie had some competition from another heavy action film, G.I. Joe: Retaliation, but still managed to hold its own, bringing in $122 million worldwide. That's not half-bad for a pre-summer action flick, and an R-rated action flick to boot. Still, if you've been waiting to give this one a shot you'll be able to do so on August 13, when Olympus has Fallen hits Blu-ray and DVD.
Olympus Has Fallen has regained some prominence in the cultural consciousness, thanks to Roland Emmerich's White House Down, which has been touted as having a somewhat similar plot and feel, as well as the same destructive Washington, D.C. setting. To differentiate between the two movies, Olympus has Fallen is the flick starring Morgan Freeman, Gerard Butler, Angela Bassett, and Aaron Eckhart in a plot following a disgraced Secret Service agent who catches wind of a terrorist attack in the United States and becomes part of the team fighting to save the United States from disaster. It's also the movie helmed by King Arthur director Antoine Fuqua.
The cover art is about what you would expect from a movie that touts some highly thought of actors as well as the destruction of parts of Washington D.C., including the White House. We've actually already shared a visual effects reel that looks at the actual footage that Fuqua shot and helps us to see how much the film was actually digitally enhanced to give viewers a visual feast of destruction.
If that's not enough to entice you to give the film a shot, Sony Pictures Home Entertainment is also putting together a set that is chock full of bonus features, at least if you purchase the Blu-ray combo pack, which comes with five exclusive featurettes, as well as a blooper reel. Unfortunately, if you're still dealing with DVDs, no extras will be present. The list price for Blu-ray copies is $40.99 and the list price for DVDs is $30.99, but you can pre-order Olympus has Fallen on Blu-ray (opens in new tab) for $28.99 or DVD (opens in new tab) for $18.96 on Amazon. If you are still debating about which copy to get your hands on, the Blu-ray exclusive extras are listed, below.
Olympus Has Fallen Blu-ray Exclusive Bonus Materials
"Under Siege: The Making of Olympus Has Fallen"
"The Epic Ensemble"
"Creating the Action: Visual FX & Design"
"Deconstructing the Black Hawk Sequnce"
"Ground Combat: Fighting the Terrorists"
Bloopers
Reality TV fan with a pinch of Disney fairy dust thrown in. Theme park junkie. If you've created a rom-com I've probably watched it.
Your Daily Blend of Entertainment News
Thank you for signing up to CinemaBlend. You will receive a verification email shortly.
There was a problem. Please refresh the page and try again.