Operation Kino 76: We Love ParaNorman And Dig Deep Into Kickstarter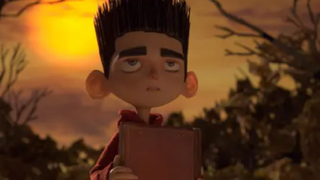 (Image credit: Focus Features)
This week on Operation Kino, we struggle onward after Matt Patches's tragic death in the Quarter Quell to review ParaNorman (it's also possible Patches is on vacation! Stay tuned for the thrilling conclusion next week!) The three of us remaining also get into a lightning round inspired by The Odd Life of Timothy Green, and then tidbits, in which Katey kind of likes The Expendables 2, Da7e wonders what's up with Kristen Stewart maybe not being in the Snow White and the Huntsman sequel, and David digs into the baffling new David Cronenberg movie Cosmopolis. We've also got the newest installment of OpKino Indie, in which Da7e talks to Lucas McNelly, an expert on the popular independent film financing site Kickstarter. He has actual numbers and data! It's a film nerd spectacular. And of course we end, as always, with your lightning round answers for dessert.
Take a listen below and find your downloading options; for more from all of us, you can follow our guest Lucas McNelly (@LMcnelly) the show (@opkino), Da7e (@da7e), David (@davidehrlich or @CriterionCorner), Patches (@misterpatches) and Katey (@kateyrich) on Twitter. You can also visit Lucas's website or the Kickstarter page for 4 of a Kind.
To download the file directly, click HERE
00:00-00:36 Lightning Round
00:49 - 20:43 Introductions and Tidbits
21:12 - 37:15 ParaNorman reviewed
37:36 - 1:09:18 OpKino Indie featuring Lucas McNelly
1:09:32 - 1:12:05 Dessert!
And if you like what you're hearing, don't forget to review us on iTunes!
Your Daily Blend of Entertainment News