Orlando Bloom Is Not In Prince Of Persia - Updated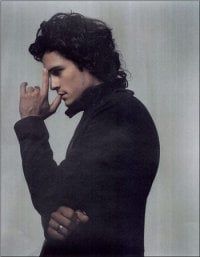 Staring down the barrel of a June 2009 release date, producer Jerry Bruckheimer has finally picked a lead actor for his next big budget franchise, Prince of Persia: The Sands of Time. Not wanting to leave the movie in the hands of an untested hero, Bruckheimer went fishing in familiar waters and landed Orlando Bloom to play the lead in what Bruckheimer and Disney hope will be a trilogy of films.
The report of Bloom's signing comes from Hollywood.com, but has yet to be confirmed. It does make some sense as Bloom has been a key player in two of the biggest adventure trilogies of the last decade. He reportedly beat out Zac Efron, a rising star but totally unproven when it comes to carrying a sword and raking in the billions with a capital B needed to turn these spectacle threesomes into a success. Bloom will get a reported $40 million for all three pictures, which is slightly more than I made last year… multiplied by 40,000.
The only thing that causes some concern about the veracity of this story is that the same article names Bruckheimer himself as the director of the first movie. As was noted last month, Harry Potter director Mike Newell will be directing the first Prince of Persia movie. In any case, if Bloom dons the robes and sandals of a Middle Eastern prince and gets some of Bruckheimer's overblown effects behind him, look for teenage girls and fanboys to propel this one into Pirates territory.
UPDATE: This story seemed to come out of nowhere, so after reading Ed's report I shot a quick email to our contacts at Disney looking for confirmation. Their answer? "I can assure you that there is absolutely no truth to the rumors that have circulated today with regards to Orlando Bloom." Well that rumor died quick. If you look at the Hollywood.com story closely, you'll see that it actually comes from the British celebrity news syndicator WENN, not Hollywood.com. The odd thing is that WENN would report this story without even bothering to ask Disney about it. It literally took me five minutes. I wonder where they came up with it? Either way, there you have it. Orlando Bloom is not in Prince of Persia. No way, no how. - JT
Your Daily Blend of Entertainment News
Thank you for signing up to CinemaBlend. You will receive a verification email shortly.
There was a problem. Please refresh the page and try again.