Oscar Eye: Can The For Colored Girls Actresses Shake Up Best Supporting Actress?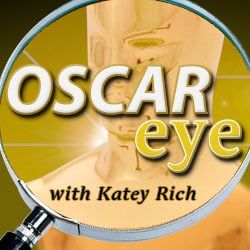 Supporting Actress is the wildest, most wide-open acting category in the Oscar race so far this year, and the one with the most potential for upsets and out-of-the-blue nominees. It's a coincidence, yes, that Lionsgate is coming into this field with For Colored Girls, a movie jam-packed with heartfelt performances from actresses who could all be considered supporting-- but it's a position they're ready to take great advantage of. Directed by Tyler Perry, a recent inductee into the Academy and driving force behind last year's Best Supporting Actress winner Precious, For Colored Girls is both the kind of thing Oscar adores-- a dramatic opus with lots of crying-- and a completely odd duck. I have no idea how anyone will respond to it, and that's what makes it so fun to speculate about right now.
To be blunt from the start, I can only imagine For Colored Girls making headway in the Supporting Actress category-- it's far too polarizing for any of the other big nominations, and even if they tried to campaign one of the women from the film as Best Actress, she'd be clobbered by the intense competition out there. But there really is room for one of them to sneak into the Supporting Actress category, so long as the campaigners can pick an actress to get behind and go with it. This may prove tricky-- everyone I've talked to about the movie has had a different personal favorite from the cast, and with every single actress given a big moment to monologue and cry into the camera, it's hard to pick a real standout. As likely as it is that the reviews will be mixed, critics could help here, getting behind one actress in particular and supporting the beginnings of an Oscar campaign.
Personally I'm throwing my weight behind Anika Noni Rose-- she has one of the film's strongest monologues, plays a character who undergoes significant changes over the course of the film, and never oversells it (as, say, co-stars Thandie Newton and Janet Jackson do from time to time). Rose has been part of films that skirted Oscar attention in the past, as an ousted member of the girl group in Dreamgirls and the voice of Princess Tiana in The Princess and the Frog, but she's unknown to most moviegoers, and a big push behind her performance in For Colored Girls could be the kind of "fresh face" nomination that happens quite frequently in the Supporting Actress category (see: Jennifer Hudson, Amy Adams for Junebug, Kate Hudson for Almost Famous, etc. etc.)
Of course this is all theoretical. If For Colored Girls gets critically lashed as most of Perry's movies do, the chances for any of these actresses to rise above it will be over. The movie is certainly a gamble, and Lionsgate could spend a lot of money on a Supporting Actress campaign that goes nowhere. But with the category looking so empty for the moment, a real For Colored Girls campaign could liven things up, not to mention give us a shot at a non-white acting nominee (the rest of the competition thus far being extremely, frustratingly homogenous).
Also on the note of the Supporting Actress category, I finally caught up with Barney's Version last week, and see the film, as many others do, as viable competition in three different acting categories. Paul Giamatti definitely must be considered for his complex, oddly endearing performance as a largely unlikeable man, but there's also strong work coming from Dustin Hoffman as Barney's irascible father and Rosamund Pike as his long-suffering, devoted-to-a-certain-point wife. It's not as good as her performance in An Education or even this year's Made in Dagenham, but those two performances could help build support for this one, which is a bigger role and will get wrapped up in what I expect to be a major campaign for her co-star Giamatti. Again, the Supporting Actress field is wide open, so there's plenty of room for Pike to grab the brass ring here.
And with not much else to talk about, and the release schedule for this week still terribly grim, it's time to move on to the charts. Not a ton of change except in Best Supporting Actress, because things have generally been pretty quiet lately. Thus is late October, I guess.
Swipe to scroll horizontally
Secretariat has been bumped down, somewhat belatedly, to Outside Chance owing to its poor box office performance. Everything else pretty much remains the same. I can't wait to see how 127 Hours plays with audiences when it opens next week. It's a serious crowdpleaser ,and if the box office is good-- and Fox Searchlight definitely knows how to make that happen-- it could become a more serious contender than people are really considering at the moment.
Inception
The Social Network
Toy Story 3
127 Hours
Another Year
Black Swan
The Fighter
The Kids Are All Right
The King's Speech
True Grit
Winter's Bone
Fair Game
Love and Other Drugs
Made in Dagenham
Rabbit Hole
Shutter Island
Somewhere
The Tourist
The Way Back
Blue Valentine
Biutiful
Brighton Rock
Conviction
Country Strong
For Colored Girls
Get Low
The Ghost Writer
Greenberg
Hereafter
How Do You Know?
Never Let Me Go
Nowhere Boy
Secretariat
The Town
Wall Street 2: Money Never Sleeps
Swipe to scroll horizontally
Last week I boldly said that Danny Boyle was already guaranteed his nomination, but then didn't follow through and move him up as a Mortal Lock. Well, duh. Everything else remains pretty much the same-- isn't it kind of crazy that none of the other directors feel like locks yet?
Danny Boyle, 127 Hours
David Fincher, The Social Network
Darren Aronofsky, Black Swan
Joel and Ethan Coen, True Grit
Tom Hooper, The King's Speech
Mike Leigh, Another Year
Christopher Nolan, Inception
David O. Russell, The Fighter
Lisa Cholodenko, The Kids Are All Right
Sofia Coppola, Somewhere
Clint Eastwood, Hereafter
Florian Henckel von Donnersmarck, The Tourist
Peter Weir, The Way Back
Ben Affleck, The Town
Alejandro Gonzalez Innaritu, Biuitiful
John Cameron Mitchell, Rabbit Hole
Tyler Perry, For Colored Girls
Roman Polanski, The Ghost Writer
Mark Romanek, Never Let Me Go
Martin Scorsese, Shutter Island
Oliver Stone, Wall Street 2: Money Never Sleeps
Edward Zwick, Love and Other Drugs
Swipe to scroll horizontally
Paul Giamatti, as I predicted last week, is most definitely in the running thanks to Barney's Version, and I"m feeling better about his chances than nearly everyone else in the Likely Contender category, save Bridges, Eisenberg and maybe Duvall. He's a recently crowned Emmy winner and still has that Sideways Best Actor snub to hold against the Academy. Now could be the time to make up for past mistakes.
Colin Firth, The King's Speech
James Franco, 127 Hours
Javier Bardem, Biutiful
Jeff Bridges, True Grit
Robert Duvall, Get Low
Jesse Eisenberg, The Social Network
Paul Giamatti, Barney's Version
Ryan Gosling, Blue Valentine
Mark Wahlberg, The Fighter
Johnny Depp, The Tourist
Leonardo DiCaprio, Inception
Stephen Dorff, Somewhere
Aaron Eckhart, Rabbit Hole
Jim Broadbent, Another Year
Jake Gyllenhaal, Love and Other Drugs
Sean Penn, Fair Game
Kevin Spacey, Casino Jack
Ben Stiller, Greenberg
Swipe to scroll horizontally
People are starting to see Love and Other Drugs-- people not me, sadly-- and the word is that, regardless of the film's merit, Hathaway is good enough to be included in the conversation. She's been bumped up to Likely Contender, right there with Lawrence and Manville and everyone else jostling for the remaining three spots next to Bening and Portman, who still feel very much locked in for me right now.
Annette Bening, The Kids Are All Right
Natalie Portman, Black Swan
Anne Hathaway, Love and Other Drugs
Sally Hawkins, Made in Dagenham
Nicole Kidman, Rabbit Hole
Jennifer Lawrence, Winter's Bone
Lesley Manville, Another Year
Julianne Moore, The Kids Are All Right
Diane Lane, Secretariat
Hilary Swank, Conviction
Michelle Williams, Blue Valentine
Reese Witherspoon, How Do You Know?
Gwyneth Paltrow, Country Strong
Tilda Swinton, I Am Love
Naomi Watts, Fair Game
Swipe to scroll horizontally
Dustin Hoffman has been bumped out of Outside Chance now that I've seen the film and understand the hype, but he's still got a lot of competition facing him. Everything else remains the same-- how long before we finally get a look at The Fighter and see if Christian Bale is the fearsome contender he's rumored to be? Did you guys know he's never been nominated for an Oscar? Yet another chance for this year's race to make up for an oversight.
Mark Ruffalo, The Kids Are All Right
Geoffrey Rush, The King's Speech
Christian Bale, The Fighter
Andrew Garfield, The Social Network
Sam Rockwell, Conviction
Justin Timberlake, The Social Network
Michael Douglas, Wall Street 2: Money Never Sleeps
Ed Harris, The Way Back
John Hawkes, Winter's Bone
Dustin Hoffman, Barney's Version
Bob Hoskins, Made in Dagenham
Jeremy Renner, The Town
Josh Brolin, True Grit
Vincent Cassel, Black Swan
Matt Damon, True Grit
Colin Farrell, The Way Back
Armie Hammer, The Social Network
Swipe to scroll horizontally
A lot of change to see here. As promised I've added the For Colored Girls actresses I see standing a chance, and have bumped Pike up to Likely Contender-- unless the Barney's Version campaign isn't nearly as extensive as I'm predicting, she seems like a safe "supportive wife" nomination here. The performance of For Colored Girls may answer a lot of the questions here, or could just leave us with exactly the mysterious category we started with.
NONE
Helena Bonham-Carter, The King's Speech
Barbara Hershey, Black Swan
Rosamund Pike, Barney's Version
Miranda Richardson, Made in Dagenham
Hailee Steinfeld, True Grit
Jacki Weaver, Animal Kingdom
Dianne Wiest, Rabbit Hole
Amy Adams, The Fighter
Loretta Devine, For Colored Girls
Kimberly Elise, For Colored Girls
Melissa Leo, The Fighter
Thandie Newton, For Colored Girls
Rosamund Pike, Made in Dagenham
Phylicia Rashad, For Colored Girls
Anika Noni Rose, For Colored Girls
Kristin Scott Thomas, Nowhere Boy
Marion Cotillard, Inception
Elle Fanning, Somewhere
Saoirse Ronan, The Way Back
Sissy Spacek, Get Low
Mia Wasikowska, The Kids Are All Right
Your Daily Blend of Entertainment News
Staff Writer at CinemaBlend