Oscar Eye: Predicting The Nominees Now That Avatar Is A Giant Hit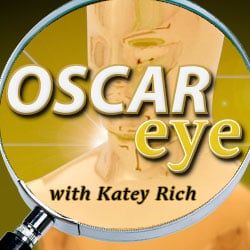 In previous weeks, when I sat here wondering how the Meryl Streep vs. Carey Mulligan showdown would play out, or confidently assuming that Up would be the animated Best Picture nominee, you were welcome to roll your eyes. It was too early! Some of the biggest movies hadn't come out yet! You needed to see them all first!
But now, you have no excuse. Cold, hard January has begun, with every new release promising to be mediocre or worse, all the Oscar hopefuls out in theaters and under critical scrutiny, and Oscar nominations but a month away. Add the ever-mysterious 10 Best Picture nominees and the fact that the fourth-biggest movie in history is also a major contender, and it's not just Oscar season, but an interesting Oscar season!
I took the holidays off from Oscar talk, as did pretty much everyone, but that doesn't mean things weren't changing-- Avatar's phenomenal box office run and widespread critical support have cemented the film as a major contender in nearly every category, while Nine's utter failure to catch on at the box office has inspired many pundits to kick it out of the Best Picture Top 10. Before we launch into the charts, a brief rundown on who's up and who's down after the holidays. Many films don't seem to have wavered at all, but here are the ones that are either rising or fading for whatever reason.
UP
Avatar. As anyone attempting to predict the movie's box office has learned, it's impossible to underestimate the movie at this point. It is an enormous, earth-shaking hit and is likely to only grow in popularity as January trudges on. It's not hard to draw comparisons to 1997, when one movie was winning all the critical acclaim-- L.A. Confidential, more on that later-- only to be steamrolled by a giant James Cameron epic (do I need to remind you about the big boat?). Best Picture remains an exceptionally fuzzy category, but Avatar is getting bigger by the day.
Up in the Air. Though it has lost its locked-down frontrunner status in the face of The Hurt Locker's critical love and Avatar's box office run, it snagged Entertainment Weekly's Oscar issue cover, and sits just behind Avatar on the incredibly helpful Gurus o' Gold chart. If Cameron backlash gets started and/or older Academy voters don't go for the giant blue aliens, Up in the Air is well-poised in cleanup position.
The Hurt Locker. The critic's awards keep coming-- The National Society of Film Critics, a very big group, were the latest to join the chorus-- and Bigelow's buzz for the potential to become the first female Best Director hasn't faded. But it was pointed out on Twitter last night that the last film to win Best Picture from the New York and Los Angeles film critics as well as NSFC was L.A. Confidential... which lost to Titanic.
Inglourious Basterds. Some voices in the wilderness, like In Contention's Guy Lodge and Gold Derby's Tom O'Neill are predicting it for the win. Recently out on DVD, it still plays like gangbusters (I showed it to two people for the first time yesterday, and both loved it). It has Harvey Weinstein backing it fully now that Nine is tanking (more on that later). Unlike Avatar, it's crammed full of actors doing great work. Unlike Up in the Air, it's passionate and messy. And given how many people flat-out love it, it's likely that a lot of Oscar voters will put it at the top of their lists like I did.
Down
Nine. Critics didn't like it. Audiences don't like it. Marion Cotillard's Best Actress campaign still makes no sense, Daniel Day-Lewis was widely panned, and Rob Marshall has far too much competition to make it into Best Director. A Best Picture nomination is still possible, but suddenly this once-gleaming project is the weakest of the bunch.
An Education. No one is talking about it anymore, except for Carey Mulligan.
Precious. No one is talking about it anymore, except for Mo'nique and Gabourey Sidibe. If I were to guess, I'd say a lot of voters are having trouble making themselves put the screener in the DVD player.
So, on to the charts, with more explanation of what's changing and staying the same. This week we see nomination announcements from the Producers Guild, Directors Guild and the Writers Guild, industry groups that, with SAG, predict a lot about the Academy's choices. Their choices will likely solidify a lot of what we already think of as sure bets-- Christoph Waltz, Mo'nique, Meryl Streep, etc.-- but, excitingly, will almost definitely fail to solidify a Best Picture winner. The uncertainty continues. It's a good season so far.
Is Nine out? Probably. Do I have a clue what might replace it? Of course not, especially while I feel uncertain about An Education to boot. For now, though, I'll join the chorus that is going for A Serious Man despite its oddities, and also throw Julie & Julia's populist spot over to The Blind Side. I don't really think it will get the nomination, but that movie is a phenomenon and difficult to ignore.
Oh, and Avatar is now a Mortal Lock, making it a solid five movies that are guarantees with Inglourious Basterds right behind them. Not a bad list, right?
Avatar
The Hurt Locker
Precious:Based on the Novel 'Push' By Sapphire
Up
Up in the Air
An Education
Inglourious Basterds
Invictus
Nine
A Serious Man
500 Days of Summer
The Blind Side
Julie & Julia
The Last Station
Sherlock Holmes
A Single Man
The Road
Bright Star
Brothers
Crazy Heart
District 9
The Hangover
The Informant!
Public Enemies
Star Trek
Where the Wild Things Are
James Cameron, in that old familiar way of his, has elbowed his way into Mortal Lock status, now that he's the first-ever director to have two movies gross over a billion dollars worldwide (and earn Oscar buzz in the process). Say what you will about Avatar, but you've gotta admire that. With Invictus humming along nicely at the box office and Precious fading, it seems possible that Eastwood will supplant Daniels, but I'll wait for more guild awards before making it official. The Coens, though, are also looking like more and more of a threat.
Kathryn Bigelow, The Hurt Locker
James Cameron, Avatar
Jason Reitman, Up in the Air
Joel and Ethan Coen, A Serious Man
Lee Daniels, Precious
Clint Eastwood, Invictus
Rob Marshall, Nine
Quentin Tarantino, Inglourious Basterds
Jane Campion, Bright Star
Tom Ford, A Single Man
Lone Scherfig, An Education
John Hillcoat, The Road
Michael Hoffman, The Last Station
Peter Jackson, The Lovely Bones
Michael Mann, Public Enemies
Oren Moverman, The Messenger
Steven Soderbergh, The Informant!
Jim Sheridan, Brothers
SAG went for Jeremy Renner, and with Daniel Day-Lewis in Nine becoming a non-factor, his spot in this bunch seems all the more assured. At this point it's hard to imagine anyone jumping in his place-- a Michael Stuhlbarg shocker, maybe?-- and no one else in the category seems particularly vulnerable either. Way to solidify, guys.
Jeff Bridges, Crazy Heart
Colin Firth, A Single Man
George Clooney, Up in the Air
Matt Damon, The Informant!
Daniel Day-Lewis, Nine
Morgan Freeman, Invictus
Viggo Mortensen, The Road
Jeremy Renner, The Hurt Locker
Michael Stuhlbarg, A Serious Man
Joseph Gordon-Levitt, 500 Days of Summer
Tobey Maguire, Brothers
James McAvoy, The Last Station
Sam Rockwell, Moon
Sharlto Copley, District 9
Johnny Depp, Public Enemies
Ben Foster, The Messenger
Hal Holbrook, That Evening Sun
I hold on to the faintest outside hope that Tilda Swinton can somehow make it in here, and with Helen Mirren looking the most vulnerable-- is anybody seeing The Last Station?-- it seems sorta-maybe possible. But then again, Abbie Cornish is in spoiler position as well, and Marion Cotillard really is the best thing about Nine, though I'd be much happier to see her in the Supporting category where she belongs. There's nothing coming up that's likely to shake this category, but if The Last Station keeps underperforming, there still may be a surprise in store. Worth noting: a lot of people want Zoe Saldana to be in here because of Avatar. It seems unlikely-- they snubbed Andy Serkis in Lord of the Rings-- but an addition has been made.
Carey Mulligan, An Education
Meryl Streep, Julie & Julia
Gabourey Sidibe, Precious
Sandra Bullock, The Blind Side
Marion Cotillard, Nine
Abbie Cornish, Bright Star
Helen Mirren, The Last Station
Zoe Saldana, Avatar
Tilda Swinton, Julia
Natalie Portman, Brothers
Saiorsie Ronan, The Lovely Bones
I thought SAG would go for Alfred Molina, and I was wrong, and suddenly it seems like Matt Damon will get an Oscar nomination for simply showing up in a Clint Eastwood movie. Sure, Damon has done endless amounts of good work all decade and deserves recognition, but ugh, not for this. I'm sucking it up and putting him in, though, because it seems we don't have a choice. I'm at least holding out hope that Tucci's nod will be for Julie & Julia.
Christoph Waltz, Inglourious Basterds
Matt Damon, Invictus
Woody Harrelson, The Messenger
Alfred Molina, An Education
Christopher Plummer, The Last Station
Stanley Tucci, Julie & Julia
Richard Kind, A Serious Man
Anthony Mackie, The Hurt Locker
Peter Sarsgaard, An Education
Paul Schneider, Bright Star
Stanley Tucci, The Lovely Bones
Alec Baldwin, It's Complicated
Jude Law, Sherlock Holmes
Kodi Smit-McPhee, The Road
OK, I'm just gonna do it. I think Marion Cotillard should get a Supporting nod, and because I can't figure how Penelope Cruz will manage to get in here, I'm just gonna do it-- Cotillard winds up here for supporting. If not her it might be Maggie Gyllenhaal for Crazy Heart, who has wisely moved down to supporting. But I feel the need to make a crazy prediction today, so it may as well be this one.
Mo'Nique, Precious
Penelope Cruz, Nine
Vera Farmiga, Up in the Air
Anna Kendrick, Up in the Air
Julianne Moore, A Single Man
Mariah Carey, Precious
Marion Cotillard, Nine
Maggie Gyllenhaal, Crazy Heart
Samantha Morton, The Messenger
Diane Kruger, Inglourious Basterds
Melanie Laurent, Inglourious Basterds
Paula Patton, Precious
Staff Writer at CinemaBlend
Your Daily Blend of Entertainment News
Thank you for signing up to CinemaBlend. You will receive a verification email shortly.
There was a problem. Please refresh the page and try again.