Oscar Isaac Says There's One Thing He Loves About Star Wars: Episode VII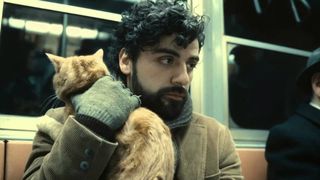 Actor Oscar Isaac is probably best known to film fans as the titular character in the Coen Bros. film Inside Llewyn Davis. Isaac received lots of acclaim for his work as a young folk singer wandering around Greenwich Village in the early 1960s, but something leads me to believe that he's probably going to be known for a much bigger role come late 2015. Isaac has landed a part playing a yet to be revealed characer in JJ Abrams' upcoming Star Wars: Episode VII. While secrecy surrounds the project, Isaac has revealed at least one thing he really loves about the process of making the new film – actually shooting on film.
The actor recently sat down with The Huffington Post to talk about his current and upcoming projects, but it didn't take long for the talk to shift to a film set in the very far future. Isaac reveals that you "can't say shit" about the new Star Wars film, but thinks that's actually okay. He doesn't understand why people want to spoil things for themselves so far ahead of the film's December 2015 release date – something I too ponder on a daily basis. "It's much more fun to be surprised," the actor concludes.
One thing he can talk about is the fact that Abrams is shooting Star Wars: Episode VII on film – something that makes Isaac extremely happy.
Shooting on film has the ability to make things look "so textured and alive," in the actor's estimation, but the joy of using actual film stock goes beyond that.
With Isaac having his hands tied when it comes to talking about the new films, the actor was asked his opinion on the older entries in the Star Wars series – most notably, his thoughts on George Lucas' constant tinkering with the original films.
Well played, Oscar Isaac – you managed to appease the fans while not angering the mighty George Lucas. Maybe this is a sign that the actor's going to be a diplomat in the new film. Just please, for the love of God, no more Galactic Senate meeting scenes…
Your Daily Blend of Entertainment News
Thank you for signing up to CinemaBlend. You will receive a verification email shortly.
There was a problem. Please refresh the page and try again.