Oscar-Nominated Crime Drama A Prophet To Get The Remake Treatment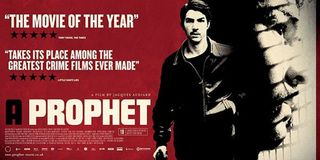 One of the most talked about films in award season 2009-2010 was the French crime drama A Prophet. Helmed by two-time BAFTA winner Jacques Audiard, the movie followed a 19-year-old criminal through his rise from teen thug to mafia kingpin. Among much acclaim, A Prophet earned nominations from the Independent Spirit Awards, Academy Awards, and Golden Globes, as well as winning a BAFTA, the Grand Prize at the Cannes Film Festival, and a whopping nine Cesar awards! (The Cesars are essentially the French equivalent of the Oscar.) But hey, it was in a foreign language, which means millions of Americans haven't seen it. Cue the remake!
The Wrap reports Sony Pictures has optioned the remake rights of A Prophet, and is developing an English-language version with the production company ironically called Original Film, which recently had a hand in the creation of 21 Jump Street (as well as it's upcoming sequel, the newly titled 22 Jump Street), Fast & Furious 6, and the upcoming R.I.P.D. While it's easy to roll our collective eyes at the idea of remaking a movie that was clearly very powerful and well crafted, the team at Original Film has shown a flair for crime movies. So, let's not count them out just yet.
Producer Neal H. Moritz seems dedicated to capturing the spirit of the original, and insists he has the "trust" (thereby implied approval) of Audiard, as well as his fellow screenwriters Thomas Bidegain, Nicolas Peufaillit, and Abdel Raouf Dafri. At this stage, it's unknown who might adapt the screenplay, direct the remake, or star in this English-language Prophet. What is known is just how big the shoes are that these filmmakers have to fill. It's a daunting endeavor.
Staff writer at CinemaBlend.
Your Daily Blend of Entertainment News
Thank you for signing up to CinemaBlend. You will receive a verification email shortly.
There was a problem. Please refresh the page and try again.