Oscar Winners Steve McQueen And John Ridley Feuding Over 12 Years A Slave Writing Credit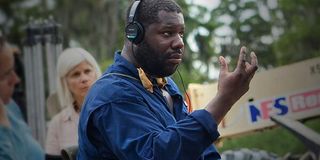 Rarely do you make a great movie without getting some blood on the streets. Creative types who can make it in Hollywood are usually headstrong enough to believe their vision is superior to another's, and that results in clashes. Some of those clashes happen behind the scenes of the greatest movies ever made. There's often a lot at stake, and it matters if your name is or is not seen on the screen in a bid for immortality. It turns out one of these clashes can be found behind the film that just took home Best Picture at the Academy Awards.
12 Years A Slave won big at the Oscars, on Sunday night, but The Wrap reports there's a deep chill occurring between credited screenwriter John Ridley and director Steve McQueen - two deeply respected individuals who earlier seemed to have happily collaborated on one of the year's most acclaimed movies. Though both received honors last night, neither acknowledged the other in their acceptance speeches. And when Ridley won his award, McQueen responded with this hilariously goofy non-clap.
Their initial collaboration, and resulting disagreement, is actually quite simple. McQueen enlisted Ridley for the project, and Ridley ended up adapting Solomon Northrup's memoir on spec, which is to say he completed the work for free in order to receive eventual compensation. McQueen's contributions to the script are unknown, but they were enough for him to request a co-writing credit. Ridley, who also wrote or co-wrote Three Kings, Undercover Brother and Red Tails, denied McQueen's request, and a WGA ruling as well as Fox Searchlight also sided with Ridley.
Rather than accept the decision quietly, McQueen has apparently been less than cordial, and the two have not fraternized at awards events and promotional gatherings. The Wrap even details events where McQueen made Ridley's wife cry, which is probably a gossipy exaggeration but one that nonetheless fits with McQueen's brusque, plainspoken manner. It's gotten so bad that the film's producer, Brad Pitt, had to come in and mediate. And if Brad Pitt can't make you chill out, then who can? That was probably a really chill mediation meeting.
These sorts of things strike every year at awards season. A few years ago there was a nasty spat between credited writer Sheldon Turner and director Jason Reitman over the writing credit for Up In The Air. Screenwriter-director relations are notoriously ugly: just ask Ridley, who has spoken at length about Three Kings leaving him with only a "Story By" credit. The screenwriter is often very low on the totem compared to the director, but many of the directors are writers themselves. When it comes time to claim the words, friction results from the act of having to share. And sometimes, Brad Pitt has to mediate. Hopefully there's pizza involved.
Your Daily Blend of Entertainment News
Thank you for signing up to CinemaBlend. You will receive a verification email shortly.
There was a problem. Please refresh the page and try again.