Oscar Pizza Came From A Real Pizzeria That Got A Major Bump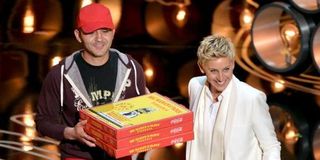 Who was the big winner at the Oscars last night? Was it Best Picture winner 12 Years a Slave? Or the film's devastatingly dazzling ingénue Lupita Nyong'o? Maybe Gravity, which took home 7 Academy Awards, including Best Director? Nope. It was a California pizza chain that stole the Oscar spotlight for a full two minutes.
Among Ellen DeGeneres's affable antics at the Academy Awards last night was her insistence on getting pizza for the award's biggest stars. Sure, it was a gag that went a little long, but it played well to the A-listers in the front rows, who gamely clamored for a slice of Big Mama's & Papa's pizza. Now, I had assumed this was some prop pizza box brought in to really "sell" the idea of pizza. But I'm a New Yorker, and so was unfamiliar with the real Big Mama's & Papa's Pizzeria, which cleaned up big at last night's Oscars.
TMZ reports that Big Mama's & Papa's Pizzeria not only got paid for the pizzas they delivered to the Academy, but also got roundabouts $10 million in free advertising for their business. It's estimated that a single-spot ad during the Oscar's commercial breaks costs a whopping $1.8 million. So, with all the time DeGeneres spent dishing out slices, this pizza chain got some serious ad time. Plus, they now have plenty of pics of some of Hollywood's biggest stars happily enjoying their pizza. I have no doubt these images will be up in the windows of their shops by now.
It seems DeGeneres was the actual inspiration for this delectable bit that took Twitter by storm ( for the second time). The talk show host has actually ordered from the Los Angeles-based pizzeria before to feed her staff on The Ellen DeGeneres Show. An employee from Big Mama's & Papa's told ABC News, "They had us make a giant pizza before for one of her shows." You spot that monstrosity below in this ad from their site:
And the pizza delivery guy? He was no actor, but Edgar Martirosyan, Big Mama's & Papa's owner, who told USA Today (opens in new tab) he does a little bit of everything for the business, from managing to baking, to (apparently) making its most crucial deliveries. It's currently a mystery whether or not Martirosyan got that tip Ellen collected in Pharrell's garish hat. But that might be because the dedicated pizzeria owner rushed out, quick to return to the shop and finish his shift. It's good that he did. The Oscar bump had the place dishing out pizza's until they ran out of dough and their online order form crashed from over-use.
Your Daily Blend of Entertainment News
Staff writer at CinemaBlend.