Oscars: Math Formula Tells Us Which Films Have The Best Chance To Be Nominated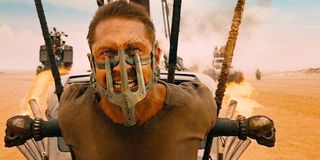 With the announcement just a few hours away, it seems like everyone and their mother (including us) is trying to figure out exactly what movie will be nominated for an Academy Award this year. Some tout their personal favorite movies as deserving a nod, others look at the types of films the voters usually favor, and still others are trying to use math to predict the notoriously fickle mind of Oscar.
Employing a complicated mathematical formula that crunches numbers from a variety of different sources, The Hollywood Reporter has their own blueprint for the most likely movies to get nominated in the six biggest categories. They use predictive models like awards that have already been given out, the opinion of professional guilds, and collected critic's ratings, weighing how important each indicator has been in previous years, and then compares the information for this year against past years.
According to this model, Spotlight, Mad Max: Fury Road, The Revenant, The Big Short, and Carol, in descending order, have the best chances to be nominated for Best Picture this year, with the top three being virtual locks. Alejandro Gonzalez Inarritu, George Miller, Tom McCarthy, Todd Haynes, and Ridley Scott, are the top five choices for Best Director. Leonardo DiCarprio, Matt Damon, Michael Fassbender, Eddie Redmayne, and Bryan Cranston lead the way for the Best Actor Statue by a significant margin. In the Best Actress category, Brie Larson leads the way for Room, almost nine percent ahead of Cate Blanchett and Saoirse Ronan. From there, it drops substantially, from around 90% down to 49% for Jennifer Lawrence in Joy, and down even further to 10% for Charlotte Rampling in 45 Years. Mark Rylance, Idris Elba, and Christian Bale are all pretty close at the top of the Best Supporting Actor race, while Kate Winslet, Rooney Mara, and Alicia Vikander are well ahead in the Best Supporting Actress category.
The Hollywood Reporter's formula was devised by Ben Zauzmer, one of their writers who also happens to have a degree in applied mathematics from Harvard, which makes him way more qualified than I am to talk about such matters. It's an interesting approach, one that takes all sentimentality, personal preference, and individual prejudices and proclivities out of the equation. We'll have to wait see how accurate it is, but we'll find out shortly.
We have to remember that the Academy voters are human and subject to such whims and aren't above things like giving Oscars to filmmakers based more on a body of work than their current project. They're always good for at least a couple of off the wall, WTF choices every year, and that's honestly one of my favorite things about the Academy Awards. I just hope Zauzmer is right about Mad Max: Fury Road getting a best picture nomination, because that movie is awesome, and I want to live in a world where a Mad Max movie, any Mad Max movie, has a chance to win an Oscar.
Your Daily Blend of Entertainment News