Oz The Great And Powerful Comic Con 2012 Live Blog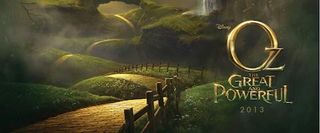 The Disney panel rolls along in Hall H, and next up is Oz: The Great and Powerful, which as you can tell from the title takes us back to the world first created by Frank L. Baum in his novels and immortalized in the 1939 movie The Wizard of Oz. But this time around we're not following Dorothy and her little dog, too-- the main focus is Oz himself, this time played as a young man by James Franco, and the three witches of Oz (Michelle Williams, Rachel Weisz and Abigail Spencer) he encounters when his balloon crash-lands in their strange world.
So far the only thing we've seen from Oz: The Great and Powerful is a single teaser poster, so we're looking forward to seeing director Sam Raimi take the stage, and hopefully show off some footage of what this new look at Oz will show us. Read below for the full liveblog, with updates coming every few minutes-- so make sure to refresh the page so you see all the latest news. And when this one is over, don't forget to look for the next one, as the Disney presentation continues in Hall H.
2:55 Kicking things off with a montage of Sam Raimi's career. Strangely missing footage from For The Love of the Game.
2:55 Raimi: "This is my home away from home, Comic Con."
2:57 Raimi starts describing the story of Oz: Great and Powerful. Says Oz is "a land of second chances" for the Wizard, played by James Franco, and that he's also influenced by his love for Glinda.
2:57 The Wizard starts off as a carnival magician in Kansas-- "he has a good heart, but he's not really in touch with it." He's eventually forced out of Kansas, which leads to a balloon, which leads to a tornado, which of course, leads to Oz.
3:00 They showed a clip, which is really more like a trailer, but it's something they developed just for Comic Con so I'm not sure if it'll ever see life outside of here. It shows the Wizard's life in Kansas, in black and white and a standard square aspect ratio, and then when he survives the tornado and makes his way to Oz the screen expands to widescreen and into bright color. Neat trick!
3:01 Michelle Williams and Mila Kunis take the stage. Williams claims she wanted to do the old school Glinda voice "but Sam said no."
3:02 Kunis, who we see in the trailer in an excellent purple suit and hat, describes her character as "incredibly sweet and naive," and she really believes in him. We heard Williams-as-Glinda ask him "are you the great man we've been waiting for," so it sounds like a lot of people are hoping to believe in the Wizard, and a lot of people are going to be disappointed.
3:03 Kunis talks up how much of the set was really there in person. "Walking into Glinda's castle was one of the most magical experiences of my life."
3:04 The Oldsmobile Classic that has appeared in every Raimi movie will be appearing in Oz: The Great And Powerful! Though it's not going to be in its familiar form-- the engine has been incorporated into the Wizard's machinery.
3:05 A girl dressed as a Tardis asks Sam Raimi about progress on a Shadow movie. He says they never quite got the right screenplay, so I guess you can stop holding your breath for that to happen.
3:06 Guy wants to know if the movie is a prequel to the 1939 movie, or a sequel to the Baum Oz books. Deep question! Raimi says "It's really based on the book, and it nods lovingly to the great classic The Wizard of Oz.
3:07 The same costume-obsessed guy from the Burton panel asks if the shoes in the movie will be ruby or silver. Then he really screws up by saying "MIla is shaking HIS head," so a lot of hilarious apologies ensue. The answer about the ruby slippers is not fun at all-- the ruby slippers rights belong to MGM from the original movie, so no dice.
3:09 The Scarecrow and the TInman will not be part of Oz: The Great And Powerful. "It's before any of those characters make an appearance."
3:10 Raimi says the 3D was really helpful in creating a new world for the film. ANd yeah, the 3D in the bit we saw looked pretty fantastic. The visuals of the world seem to verge on Alice in Wonderland garish territory from time to time, but it seems like it's also got a lot of good in there, largely because of those practical sets. Hoping it's a good use of 3D, and not something that's just gilding the lily of an already big production.
3:12 And that's it! On to Wreck-It Ralph!
Staff Writer at CinemaBlend
Your Daily Blend of Entertainment News
Thank you for signing up to CinemaBlend. You will receive a verification email shortly.
There was a problem. Please refresh the page and try again.