Patrick Stewart Is Terrifying As A Neo-Nazi In His New Movie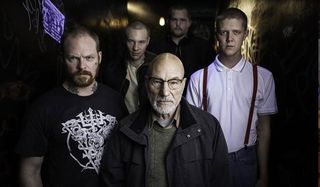 Between his portrayal of Captain Jean Luc Picard and Professor X, and his fun frolics about New York and online, we've all come to love Patrick Stewart. But the actor takes a turn to the dark side with his latest role, which you can get a peak of below.
Green Room is a drama written and directed by Jeremy Saulnier, a cinematographer on the rise who broke through as a writer-director last year with his chilling thriller Blue Ruin. The film won praise as well as the FIPRESCI Prize at the illustrious Cannes Film Festival. And it seems it got Saulnier the kind of attention you need to pull together an impeccable cast. Along with Patrick Stewart, Green Room boasts appearances by Blue Ruin's Joe Cole and Macon Blair, indie It Guys Mark Webber (Happy Christmas) and Anton Yelchin (Only Lovers Left Alive, Star Trek Into Darkness), as well as quirky ingénues Imogen Poots (That Awkward Moment) and Alia Shawkat (Arrested Development).
The film is currently in production but its official synopsis reveals that Green Room centers on a young punk band that stumbles upon an atrocious act of violence before getting trapped in a remote venue. And bad news: they are not alone. These punks must band together to fight off and survive the assault of a gang of white power skinheads. That's where Patrick Stewart comes in. The Playlist reports Stewart is lending his dramatic weight to the role of the skinheads Neo-Nazi leader.
Whoa. That's intense. Let's take a Patrick Stewart GIF break:
Stewart shares Green Room's first look along with news that the film will be released in 2015 by Broad Green Pictures, which also has Mia Hansen-Love's Eden, Ramin Bahrani's 99 Homes, and Isabel Coixet's Learning To Drive coming up. Essentially, it's an indie distributor to watch.
It seems likely Broad Green Pictures will look to premiere Green Room at the Cannes Film Festival as Blue Ruin did before. Sadly, this means we won't see much of this movie until the spring of next year. Following in the fall, Patrick Stewart will headline the Mitch-Davis directed comedy Stuck, which focuses on random bunch of New Yorkers trapped on one elevator together when the power goes out on Christmas Eve. This pic which co-stars Cheryl Hines, Max Casella, Gary Cole and Jon Heder will hit theaters next November.
In the meantime, look for Stewart updates like the one above on Twitter.
Staff writer at CinemaBlend.