See Patrick Stewart Make A Very Sick Young Trekkie's Dream Come True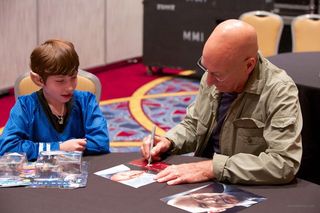 Earlier this month, Patrick Stewart made a touching visit to a young Trekkie who suffers from a debilitating illness, and in the process reduced the rest of the world to tears with his life-affirming antics.
Dawn Garrigus, who hails from Statesboro Georgia, is a preposterously brave 11-year-old who has been diagnosed with mitochondrial disease, a progressive chronic illness that causes physical, mental and developmental disabilities. She also happens to be a bona-fide Trekkie of the highest order.
As a Star Trek nut, through the Make-A-Wish foundation Dawn asked if she could attend Dragon Con, a sci-fi and fantasy convention that is held in Georgia on a yearly basis over the Labour Day weekend. Dawn's reason for visiting the event was because a special panel for Star Trek: The Next Generation had been scheduled, and she pined to learn more about her favorite TV series.
Cue Patrick Stewart, who starred as Captain Picard in the 90's sci-fi space epic. When he got wind of Dawn's plight, a special surprise meeting with the world's bravest Trekkie was orchestrated that her parents, Danny and Kristy Garrigus, have since declared was "the happiest [they] had seen her in quite some time."
You can check out several touching photographs of the two meeting courtesy of James W Barker Photography below.
Dawn spoke to The Huffington Post about how she first felt when she came face to face with her idol, admitting: "I was shy at first, not sure what to say or talk about, but he kept talking to me. I felt like I was on the Enterprise talking to the captain. And suddenly, I was OK." The girl's parents had actually kept Dawn's encounter with Stewart a secret from her until just moments before he walked in. As you can imagine, she was overwhelmed when she became aware that she would meet the star, recalling: "I was soo excited … I could not believe it."
While Dawn refused to reveal exactly what she chatted about with her new BFF, she did declare that the highlight of their exchange came when the legendary thespian revealed that they are now pals. She noted, "He told me that since we were friends, when I saw him on video that I could wave and say, 'Hello Patrick." Dawn's parents have admitted that, even though she met Stewart over two weeks ago, their daughter has shown a remarkable improvement since their meeting, and that it has left a profound mark on everyone in the family.
"We have seen a very positive response," they proclaimed. "Her illness can be very depressing and leaves her feeling separated and causes her difficulty to relate to other kids her age. Her brief visit with Sir Patrick has alleviated that feeling which we cannot begin to express gratitude for."
They then revealed that they have their own special message for the thespian: "You have made a mark on her and our life that will never be forgotten!" On behalf of the rest of the globe, I'd also just like to say, 'Kudos, Sir Patrick. Kudos.'
Your Daily Blend of Entertainment News