The Peanuts Trailer Is As Adorable As You'd Guess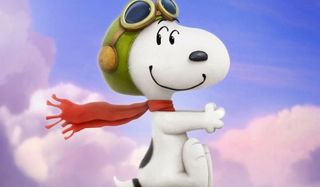 They've been a huge part of the holiday season for decades. And now Charlie Brown and the gang are coming to theaters with Peanuts! Check out the first trailer below:
Gone is the hand-drawn animation of the numerous television specials based on Charles M. Schulz's comics. Here is a bright and bulbous brand of CGI animation that aims to bring these age-old cartoon characters into a new relevance. While the new look might be jarring to Peanuts purists, it's hard to argue that it's not incredibly adorable.
This first trailer is more a teaser. Rather than delving into Peanuts' plotline, it works as a live-action comic strip, giving a short, simple and silly interaction between beastie besties Snoopy and Woodstock. Getting the jump on the holiday season, Woodstock and his flock--bedecked in teeny Santa hats--deck the halls house of Snoopy. But when a circuit blows, the iconic dog gets up and takes flight as his aviator alter-ego, The Red Baron. Noticeably, the music switches gears here, dropping the traditional Peanuts theme for chipper pop song. And before we cut out, a tease of the release date along with a peak at Charlie Brown!
We first got word of a Peanuts movie back in the fall of 2012, when Fox bought the rights to turn Charles M. Schulz's lovable comic strip into a family-friendly tent pole. The following fall, The Heat director Paul Feig signed on to produce and oversee the picture. And by the early 2014, Fox was offering up its cheeky teaser, which you can revisit below:
If the site of Snoopy cuddle-hugging Charlie Brown doesn't warm your heart, surely it is made of stone.
The teaser above gave us a peek at Charlie Brown and Snoopy in action. Then just yesterday Fox released a "cast" photo giving us the CGI versions of Franklin, Lucy, Linus, Peppermint Patty, and little sister Sally Brown.
And now we've got a trailer. Still no plot...and a year until the film's release.
Peanuts opens November 6th, 2015.
Staff writer at CinemaBlend.
Your Daily Blend of Entertainment News
Thank you for signing up to CinemaBlend. You will receive a verification email shortly.
There was a problem. Please refresh the page and try again.