Pedro Almodovar Wants To Tackle Science Fiction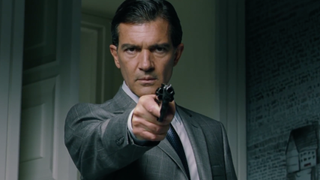 (Image credit: Sony Pictures Classics)
Renowned for his melodramas like All About My Mother and Talk to Her, Spanish auteur Pedro Almodovàr stunned audiences and critics last year with The Skin I Live In, which pulled in elements of the horror genre to make one of his most magnificent features yet. While the film may have been too strange to win notice at the Academy Awards, it scored the BAFTA for Best Film Not in the English Language last February. However, Almodovàr was in production on his next effort, I'm So Excited, and so missed the ceremony. But with that film now in post, he finally made his way to London to accept the honor, and while there confessed he has hopes to continue to explore new genres, in particular science fiction.
Variety reports Almodovàr told the audience gathered for the annual David Lean Lecture, wherein filmmakers divulge their influences:
The visionary filmmaker offered no further details on this potential project, but did confess that his love of the sci-fi genre comes from 1950s flicks like Invasion of the Body Snatchers, which memorably focuses on a surreptitious alien invasion of a small town, whose residents are replaced by emotionless extraterrestrial doppelgangers. Having been awed by what Almodovàr did with his horror inspirations in The Skin I Live In, I'd be eager to see whatever sci-fi would bring to his storytelling.
However, if you share my enthusiasm for this potential production, don't hold your breath. Almodovàr was quick to confess, "I live with my stories for many years. I write more like a novelist than a screenwriter." For the record, it took at least five years for The Skin I Live In to come together. But on the plus side, I'm So Excited is set for a theatrical release in Spain on March 8th, 2013. A Stateside release should follow.
Your Daily Blend of Entertainment News
Staff writer at CinemaBlend.