Pirates Of The Caribbean 4 Loses Another Pirate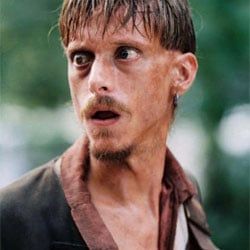 It's starting to look like just about the only pirate returning for the fourth Pirates of the Caribbean is Captain Jack. We already knew that Keira Knightley and Orlando Bloom wouldn't be involved. Now it looks like even supporting characters are being left in dry dock.
Mackenzie Crook has a recurring role in all of the first three Pirates films as the dastardly deckhand Ragetti. If the name doesn't ring a bell, he's the guy who gets a fork stuck in his eyeball and at one point he dresses up in women's underwear and gets in a rowboat. Now you know him. The character of Ragetti has always been a lot of fun and while a smaller part of the Pirates movies he's generally much beloved. Unfortunately Crook tells Contact Music that he probably won't make it on the boat for Pirates of the Caribbean: On Stranger Tides.
Says Crook of his involvement in the next film, "They haven't asked me. But actually I don't mind at all." Actually he, like a lot of us, seems kind of ambivalent when it comes to making more of these movies. Crook explains, "I'm a fan of the first one especially and I think the trilogy we've made is great. I'd almost like them to leave it there."
It's a safe bet that if Ragetti is out, so are most of the other minor characters we're used to seeing populate the Pirates universe. Captain Jack Sparrow's going where no Pirates of the Caribbean movie has gone before, and it looks like he's going alone.
Your Daily Blend of Entertainment News